Snap CEO Compares Facebook to Yahoo in Earnings Call
Spiegel says he's not afraid of Facebook's camera focus.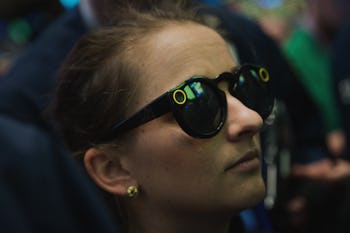 Getty Images / Drew Angerer
During Snap's first earnings call as a public company on Wednesday, a Wall Street analyst asked Evan Spiegel, Snap's CEO, if he is afraid of Facebook trying to bury the company. Without ever directly answering the question, Spiegel wound up using a metaphor that compared Facebook to Yahoo. And in that metaphor, Snap is Google.
Facebook has been obviously taking aim at Snapchat since it started emphasizing the camera elements of its platform, both at the F8 Facebook Developers talk and during its first-quarter earnings call. Despite the fact that Facebook has opened development on its in-house augmented reality camera feature, which works to make things like facial filters and augmented reality, Snap isn't feeling pressured. Instead, Spiegel seems to think the fact that Facebook is copying Snap's products is a compliment and means that Snap is ahead of the game.
In Facebook's earnings call, Zuckerberg stated that he wants to make Facebook the leader in augmented reality and camera technology. He said that Facebook camera and augmented reality tech could eventually replace physical items in your house, like your TV, by making augmented reality glasses. It read as an attack on Snapchat and Snap Spectacles, and investors took notice.
"Mark Zuckerberg opened up F8 essentially saying that they're now a camera company," Richard Greenfield from BTIG said during the earnings call. "While he didn't ever say it directly, it really sounded like he wants to bury Snapchat. So I think the question that's on every investor's mind is: does Facebook scare you, why or why not?"
In response, Spiegel laughed. "The bottom line is, if you want to be a creative company you have to get comfortable with, and basically enjoy the fact that people are going to copy your product if you make great stuff." He pointed out that after Google made search important, tons of companies followed to try and repeat its success. Then he dropped his closer. "At the end of the day, just because Yahoo, for example, has a search box doesn't make it Google."