166 Million People Used Snapchat Every Day in 2017
But the company is still hemorrhaging money.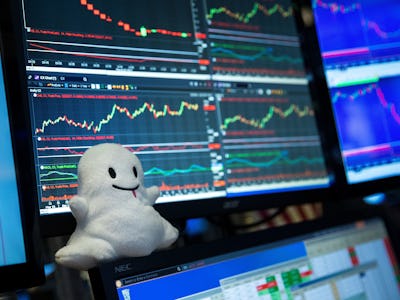 Getty Images / Drew Angerer
Snap Inc., the makers of Snapchat, held its first earnings call ever on Wednesday as a public company. While the company's finances are less than stellar, the good news is that Snapchat's user base has grown a tremendous amount in just the last year.
Snapchat's daily active users (DAU) shot up 44 million since quarter one of 2016, coming out to 166 million by the end of March. That's a 36 percent increase in DAUs, including a 5 percent increase from 158 million DAUs in quarter 4 of 2017.
That user base still lags behind the 200 million users sending along pictures and videos through Instagram Stories — the primary competitor to Snapchat. Although Snapchat began the whole "self-destructing message" gimmick, it's Instagram which has been able to monopolize on that more aggressively.
In addition, Snapchat is also losing twice as much money as it was this time last year. The company's shares went down 18 percent in after-hours trading. Snap is still accusing more and more revenue — with a 300 percent increase in the last year, coming out to $150 million this past quarter — but that's still behind expectations of $158 million. Net losses rounded out to about $2.2 billion — although $2 billion of that was part of the payout in stock-based compensation after the March IPO. Nevertheless, net losses doubled, and the company ran through $208 million the past quarter.
It's poor news for Snapchat, which released a new string of updated features Wednesday morning. It's unclear how Snap plans to correct the ship for the rest of year, but in all likelihood, the company won't be catching up to Instagram anytime soon.