Wendy's Chicken Nugget Tweet Now Holds the Record, Thanks to a Teen
Will other fast food chains follow suit?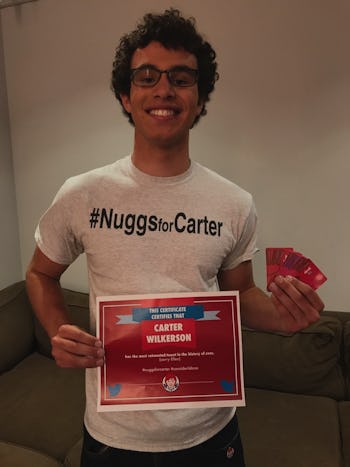 Twitter
Eighteen million retweets? "Consider it done."
So said Nevada high schooler Carter Wilkerson on Twitter in response to Wendy's promise to give him free chicken nuggets for a year if he could drum up an unheard of number of retweets.
While Wilkerson fell short of the demand, he does now claim the most retweeted tweet on Twitter, ever, with more than 3.475 million retweets as of Tuesday, topping the previous record-holder, Ellen DeGeneres's Oscars tweet, which, as of Tuesday, had 3.432 million retweets.
It was good enough for Wendy's, which, on Tuesday morning, announced that Wilkerson would get free chicken nuggets for a year, and that it would donate $100,000 to the Dave Thomas Foundation, a charity named after the chain's founder that places foster children with families.
It's exactly the kind of zero-to-sixty internet story that we've grown accustomed to over the last several years. It generated an immensely quotable phrase, too: "Consider it done" is now what we might say when faced with an immensely difficult, impossible-sounding challenge. Like ones before it, this chicken nuggets challenge included a widespread fixation on something mundane — hello, blue and black dress — and set a ridiculous goal in the mold of something like Boaty McBoatface.
Because, let's face it, an online campaign involving millions of people to get a teenager some free chicken nuggets is absurd. Hilarious, yes, but also totally absurd. But definitely worth the RTs.
The hashtag #NuggsForCarter managed to elevate itself beyond its constituent parts. It was experiencing a minor cultural moment. It's now a meme, a human interest story, and an online activism campaign all rolled into one, and successful on all counts as well. It's achieved dominance in the news cycle, and Ellen even devoted several segments of her talk show to her (now victorious) Twitter rival.
And, through it all, Wendy's was there cheering on Carter. Despite the fact that Carter and his two charities of choice are getting the most direct focus, Wendy's might actually be the biggest winner here.
The fast food chain has been attached to this from the beginning. It started, after all, with Carter lobbying to get himself one of their products for free. They set a challenge for him, and he accepted it. Consider it done.
Since then, Wendy's has been cheering Carter on.
Wendy's is a social media-savvy company (sometimes even a bit too savvy for its own good), and while other fast food chains have had their own action on social media — McDonald's offers a surprisingly original Instagram account — nothing even comes close to the success of #NuggsForCarter. Even Wendy's couldn't have predicted this outcome right from the outset. It was a completely organic, spontaneous outpouring of activity, which is precisely the quality that makes it so appealing in the first place.
One thing we can predict: Wendy's rivals have, by now, taken note, attuned to the possibilities of this kind of exposure. It wouldn't at all come as a surprise if other companies are looking to follow suit. Similarly, Wendy's will probably be looking to capitalize on its momentum. They could attempt to manufacture a similar kind of social media swell by hosting some kind of online challenge, but that would risk undermining the element of spontaneity that made #NuggsForCarter so attractive in the first place.
Another avenue might be increasing direct, clever engagement with their followers. Don't forget, it was a clever response on Wendy's part that kicked the whole thing off.
Whatever the method, replicating the success of #NuggsForCarter would be a tall order — even an impossible one. But, at the same time, it's in fast food companies' best interest to be able to do so.