The Legacy of Boaty McBoatface Lives on in a New Soccer Poll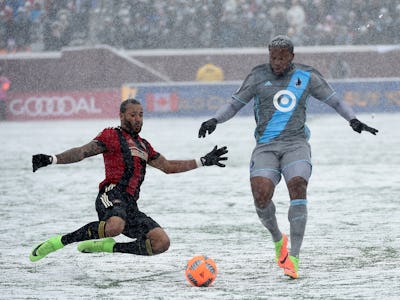 Getty Images / Hannah Foslien
San Diego soccer fans have been tasked with selecting what will be the name of the city's new Major League Soccer team, and they haven't disappointed. As of Wednesday, the name Footy McFootface has a commanding lead in a Facebook poll.
It's the kind of homage that only the internet is capable of producing. It seems the legacy of Boaty McBoatface, the winner of a public poll in the UK to select a name for a new research vessel, is destined to live on in the MLS.
One would think that after the widespread publicity of Boaty McBoatface, governments and organizations would have learned their lesson regarding letting the public decide on something like this. It seems that's far from the case, however, as the poll's rules allow any user — not just residents of San Deigo — to cast one vote per day for their preferred name.
Those lax rules are all but sure to lead to a snowballing effect, and contribute further to the already massive lead that Footy McFootface has over the runners-up: San Diego Surf and San Diego Bad Hombres.
The organizers have yet to comment on Footy's lead, as the poll is still ongoing, although it's hard to imagine any of the others catching up at this point.
Those who participated in the crowning of Footy McFootface are likely eager to see if their suggestion is taken seriously. Back when Boaty McBoatface was rising in popularity, the UK government overruled the name in favor of the RRS David Attenborough. Although, they did throw the poll results a bone and named some of the Attenborough's submersibles as Boaty McBoatface. It was a small victory, but certainly proof-of-concept for wacky, internet-sourced names.
Perhaps the fate of Footy McFootface will be the same. Perhaps, if it is rejected, it will stick to some lesser element of the future team in the form of a mascot or an unofficial nickname.