Jimmy Kimmel Apologizes for Saying Children Need Healthcare
The late night host doubled down on his call for all to be insured.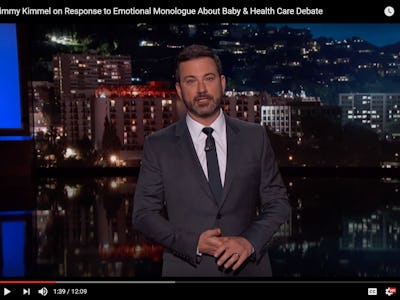 YouTube
Returning to his show on Monday after a week-long absence to spend time with his family, late night host Jimmy Kimmel issued an apology for his moving May 1 speech in which he revealed his newborn son Billy's heart condition and demanded that any healthcare bill the Congress passes be one that actually ensures that everyone's insured. In particular, he apologized for saying that all kids deserved health care.
Well, not really, though. He was, in fact, not sorry at all.
Kimmel devoted his Monday monologue to responding to all those who reacted to his words the previous week. He was thankful for the outpouring of support his family received and also for the donations received by the children's hospital that took care of his son, Billy. He also got some laughs at the expense of House Republicans, who just a few days after his speech passed a much-derided healthcare bill at the behest of President Donald Trump. Kimmel was not a fan of that legislation.
Kimmel also took some time to bite back at a few people in the media who responded more negatively to his speech. His apology was directed at them, for saying something that was somehow controversial in their eyes. He singled out the New York Post, which called him a liar, and The Washington Times, which told him to "Shut up, Jimmy Kimmel, you elitist creep."
"I don't even think that's a real newspaper, said Kimmel jokingly of the Times.
He also fired back at Newt Gingrich, who claimed recently on a Fox News panel that late-night hosts are now too angry to be funny. "They ain't funny, because they're too angry to be funny," said Gingrich.
"Gee, I wonder why we're so angry," Kimmel said. "Maybe it has something to do with, I don't know, you?"
What Is the "Kimmel Test"?
Lastly, Kimmel did a brief interview with Louisiana Republican Senator Bill Cassidy, who in a TV interview coined the term "Kimmel Test" as a benchmark by which to evaluate any healthcare legislation that the senate produces. Cassidy and his wife were both previously in the medical profession. Kimmel and Cassidy went back and forth on a few topics within healthcare, such as caps on coverage and cutting Medicaid.
Throughout, Cassidy reiterated the need for Republicans to deliver on what he called President Donald Trump's "contract" with the American people to provide affordable coverage for all with protections for pre-existing conditions. In particular, Kimmel came out strongly against tax cuts "for millionaires like me," a common criticism of the recently passed House bill.
"Thank you, Senator," Kimmel said to cap off the segment. "I trust that you will keep your word and do whatever you can to make sure those who need help get help."
Kimmel will be returning to his normal on-air schedule this week.