'Guardians of the Galaxy Vol. 2' Deftly Ignores 'Infinity War'
James Gunn's sci-fi party of a sequel did a bold thing: ignore 'Infinity War.'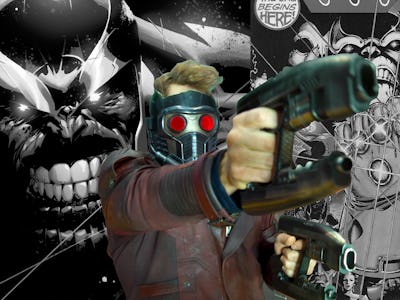 Marvel Entertainment
Ever since Thanos smirked at us in 2012's The Avengers, the Marvel Cinematic Universe has been marching towards Avengers: Infinity War. It won't be the final movie in Marvel's scheduled slate — Captain Marvel will follow it — ushering in an Infinity War sequel, but everything has been leading up to 2018. But there's just one mention of the Infinity Stones in Guardians of the Galaxy Vol. 2, and it's described using the past participle. That omission is easily the best thing about the movie, even considering Baby Groot's infectious charm.
Here's an uncomfortable truth: The Marvel Cinematic Universe is a con job. A brilliant, ingenious con job. Inherited from comics and the medium's flexibility for crossovers and nods to lore, no other kind of movie but Marvel can lure audiences en masse and have them stay after the credits to maybe see new characters for a few seconds. This doesn't work for every genre franchise — Universal's "Monster Universe" can already attest to this — but when performed with the same care Marvel has taken, it's brilliant branding turned self-sustained marketing.
Vol. 2, which includes a whopping five after-credits scenes, and only two which hint at the future, is a contradiction, at 24 frames a second. It's undeniably a Marvel movie, yet, it has a distinct personality separate from anything with an Avenger. Whether that's due to the "cosmic" DNA of the comics that are freed from superhero conventions or James Gunn's unique vision honed under B-movie auteur Lloyd Kaufman, or both, Guardians of the Galaxy is and isn't a Marvel movie, and its sequel follows suit.
Broadly speaking, the Infinity Stones act as plot devices, driving films like The Avengers, Thor: The Dark World, and Doctor Strange towards an end point. But in Marvel's continuity, the six Infinity Stones will be collected by Thanos to wield in his Infinity Gauntlet, granting him power over reality itself. If the stakes of each Marvel movie feel like they're only getting higher and higher, that's because Avengers: Infinity War is primed to introduce an unprecedented huge-scale climax. That's why Thanos's shadow has loomed too large over some of Marvel's recent films. While Marvel tries its damnedest to make its non-crossover films as accessible as possible, that task is only becoming harder.
Last year, Captain America: Civil War sported the widest ensemble cast yet, featuring characters whose stories collided all at once. None of it would've made sense unless the viewer had already watched everything, all the way back to 2008's Iron Man. Ant-Man, although a solo romp starring Paul Rudd, still featured a lengthy cameo by Anthony Mackie as the Falcon, which meant anyone who hadn't seen 2015's Avengers: Age of Ultron would've been befuddled by his appearance.
This year, both Spider-Man: Homecoming and Thor: Ragnarok will build off previous continuity, and no one knows what information either movie will tease for Infinity War. My personal guess is that Cate Blanchett's Hela has an Infinity Stone.
Keeping up with such changes is no problem for die-hard fans, but if confusing connective tissues can turn Marvel's comic books into the hot mess they currently are, imagine what that will mean for movies and its less-obsessive masses. If left unchecked, "superhero fatigue" will actually kill superhero movies.
Thankfully, Guardians of the Galaxy Vol. 2 doesn't give a shit. Judging by the "Vol. 2" in the title (only the Iron Man trilogy officially had a numerical sequence), the film only cares about Guardians of the Galaxy. It's silly that this is radical, but given Marvel's overwhelming influence in popular cinema, this is an act of rebellion. Of course, this will all change after Guardians of the Galaxy Vol. 3, which will release in the future, after even the Avengers: Infinity War sequel, which will also feature the Guardians. But for now, it's a relief that Marvel's A-holes only cared about themselves.
Marvel's Guardians of the Galaxy Vol. 2 is in theaters now.