The EPA is Axing 9 Scientists to Make Way for Industry
Half the members of a major review board were dismissed on Friday.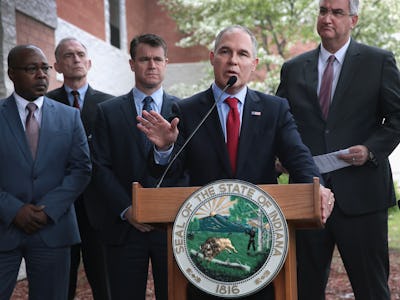 Getty Images / Scott Olson
The Environmental Protection Agency has reportedly dismissed half the scientists serving on a crucial science review board. Nine of the 18 scientists serving on the Board of Scientific Counselors were notified via email Friday that they will not be coming back following the termination of their three-year terms.
A spokesman for Scott Pruitt, the head of the EPA, told The New York Times that the agency is interested in recruiting representatives from industries affected by the EPA's regulations:
"The administrator believes we should have people on this board who understand the impact of regulations on the regulated community."
"We want to expand the pool of applicants to be as broad a range as possible, to include universities that aren't typically represented and issues that aren't typically represented."
On Monday, CNN reported that nine of the 18 members of a scientific advisory group would be removed from their positions.
The Board of Scientific Counselors is tasked with reviewing research conducted by EPA scientists. Studies done by EPA scientists are used by other government regulators to create rules and restrictions on waste dumping, emissions, and other issues that contribute to climate change.
Courtney Flint, a professor at Utah State University on the Board of Scientific Counselors, told CNN Monday that the news of her upcoming termination implied an obviously ideological shift at the agency.
"I do not think I am speculating when I say that this is a political move," she said.
One scientist, Robert Richardson, took to Twitter to break the news of his dismissal: "Today, I was Trumped," he announced Friday night.
The EPA has been a major point of contention since the Trump administration took office. In January, the agency began removing information on Obama-era federal climate plans from its website.
Pruitt has also come under fire as the head of the agency for publicly questioning the validity of man-made climate change and even saying it was "justified" to want the EPA abolished all together.