'Silicon Valley's Jack Pulls a Lando on Gavin's Han Solo
Somehow, the stakes feel like they're at their highest in 'Silicon Valley' Season 4.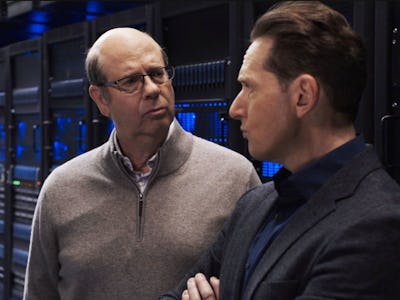 HBO
Whether or not Richard knows it, he ranks among the big power players on Silicon Valley, a group that comprises of Gavin Belson, "Action" Jack Barker, and Laurie Bream. Dinesh had a shot at the top last week, but this week, HBO's tech bubble satire lets us watch how the big boys play. In response to Gavin screwing him over, Jack stages a ridiculously dramatic trap for the head of Hooli.
Just as Gavin realizes his employee pass isn't working, Jack slides the conference room doors open to reveal the team that's going to fire Gavin's ass. It's so sinister, the music thumping, that one almost expects Darth Vader himself to be seated at the end of the table. Although, unlike Lando, Jack's not sorry for straight-up destroying Gavin at all.
When Gavin's career at Hooli explodes, the Pied Piper boys react with one of the funniest exchanges in the show's history. Trying to scare Dinesh, Gilfoyle says, "You might be the first Pakistani man to be killed by a drone inside the United States," and Dinesh stammers, "People don't have people killed in the Valley. Not even Gavin Belson, okay?" After a beat, Jared nervously recalls the joke from previous seasons in which Gavin incorporates a live animal into all of his corporate presentations. "I once saw him throw a sloth down a flight of stairs," Jared says. "He said it was an accident, but he had this look in his eyes…" Dinesh turns back to his computer, horrified, and clearly pictures himself as that unfortunate sloth.
We even get to see Monica attempt to screw over Evan, who gets her back immediately by tossing her into a business arrangement with Erlich, yet again. There's so much going on in this episode, all thrilling, that it's easy to forget how far Silicon Valley has strayed from its original premise: A handful of nerds stumble onto a marketable algorithm and are woefully underprepared for Silicon Valley's cutthroat culture. What we really need this season is another hand-job calculation scene, or a repeat of Gilfoyle and Dinesh coming up with a time-saving acronym in which they can pack socially acceptable sentiments into: RIGBY, if you remember, still stands for "Richard is great, but…you know…"
The show sprinkles hints at new, lighter fare, though. We watch Richard's sanity erode as he attempts to work through complicated calculations, and in the episode's most humanistic scene, he follows Monica around a grocery store, looking sad in a hoodie while employees for Instacart and FreshDirect bustle around them. It's left unexplained why Monica allows Richard to accompany her during errands, but they look suspiciously at ease together.
Silicon Valley Season 4 airs on HBO on Sundays at 10 p.m. Eastern.