'Silicon Valley' Teases Sexual Tension With No Release
On HBO's biting tech start-up series from Mike Judge, Richard flirts with both Monica and Jared.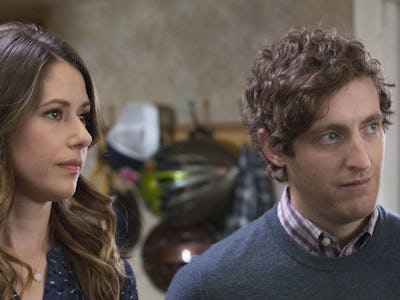 HBO
Sunday's Season 4 premiere of HBO's Silicon Valley saw the world of Richard Hendricks shift in many ways: He's removed as CEO of Pied Piper (though he takes the terrible name with him), and he shares intimate moments with both Monica, the team's venture capitalist insider, and Jared, his comically devoted assistant. In Mike Judge's tech sitcom, none of the character interactions are played earnestly, but Judge and HBO are still facing pressure from viewers to alter the show's basic shape.
As we've seen before, Richard and Pied Piper fail and are reborn together over and over. None of the characters have long-term relationships outside of their professional crew, and the show's primary female cast member, Amanda Crew, still plays "Monica," the token woman in the gang (without a last name). The show's cast — minus Crew — has sarcastically remarked on the mostly male set-up that the real Silicon Valley has a gender problem, too.
Although there are plenty of women in tech, recent reports on the matter depict Silicon Valley as a largely sexless environment. Peter Thiel told The New York Times in January that the lack of sex in California's tech bubble has almost become a social crisis.
"One of my friends has a theory that the rest of the country tolerates Silicon Valley because people there just don't have that much sex," Thiel said.
Silicon Valley's cast has, perhaps jokingly, told the press that Season 4 will finally depict sex between certain characters. Showrunner Mike Judge told The Hollywood Reporter: "There's going to be some sex, and neither participant is a horse this time."
As for who that sex will involve, if Richard is a willing participant in a sex scene, his partner will probably be Monica. In the Season 4 premiere, we see them haltingly converse about Richard's penis, which Monica has already seen once, and apparently doesn't want to see again. Of course, we're allegedly going to be introduced to three new female characters this season, and one of them will have a season-long arc.
Silicon Valley airs on HBO, Sundays at 10 p.m. Eastern.