'Silicon Valley' Season 4 Is Going to Be All About Virtual Reality
"It works, I mean the VR is rad now."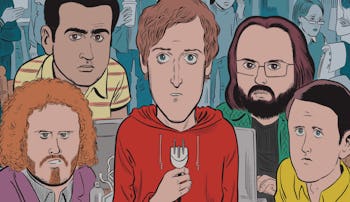 HBO put out a new trailer for Silicon Valley on Wednesday, offering a crazy, criminal, dangerous, new path for the team formerly known as Pied Piper, with Richard Hendricks admitting to bending a few rules and meeting with Gavin Belson, his former boss and now nemesis at Hooli.
Also, it's pretty clear this season is going to be all about virtual reality, related to a storyline involving Haley Joel Osment (best-known as the kid in 1999's Sixth Sense but who's had a prolific career). Osment is seen embracing Thomas Middleditch's Hendricks and saying, "You have the best technology that I have ever seen. You can change the world!"
Later shots show them both donning what look like prototypes for VR headsets, before Martin Starr's Gilfoyle tells Hendricks: "It works, I mean the VR is rad now."
Back in February, HBO released the first teaser for Season 4 that let us know that Hendricks was working on a "new internet." There were a few theories as to what that internet might be, but now it seems to like it'll be VR-based.
Watch the new trailer below. Silicon Valley's fourth season premieres at 10 p.m. Eastern on April 23 on HBO.
HBO also released a movie poster-styled piece of key art: