The 'Silicon Valley' Season 4 Trailer Announces Someone's Quitting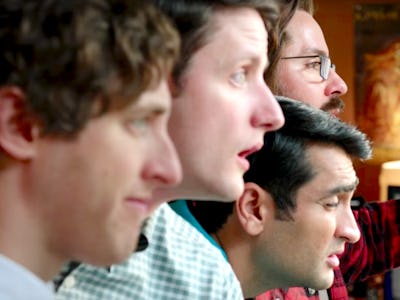 HBO
HBO released its teaser trailer for Silicon Valley Season 4 Friday, and guys, Richard, the founder of Pied Piper and the show's anti-protagonist, is calling it a day.
"Guys, I'm quitting," he says.
Cue "Talk to Me" by Run the Jewels, and we see Thomas Middleditch's fidgety character continue, "I have to insist that I keep the name Pied Piper, and I won't budge on that," a request that generates zero fucks from his fellow coders.
"We need to build a new internet," Richard says, and after some drawing on a whiteboard, and doubts from Amanda Crew's practical, most-sane-person-on-the-show, Monica ("You sound like a crazy person," she tells him.), we get the general idea that the Richard's onto something more than middle-out compression. After some wooing from Zach Woods's Jared, we're out.
That's it. It's a teaser, after all, but Silicon Valley's transition into a sort of tech version of Entourage seems set up to continue with Season 4, which premieres at 10 p.m. EST on Sunday, April 23.
Also, there was the above publicity photo released. We know that TJ Miller's Erlich Bachman still has Jian Yang (Jimmy O. Yang) as a roommate, and Dinesh (Kumail Nanjiani) is still an avid reader of tech blogs. Weirdly, Martin Starr's Gilfoyle doesn't appear in the publicity photo — but he's definitely in the trailer — so we're hoping this doesn't mean he's making an early exit. Because, after Miller's buffoon Bachmann — maybe Season 4's only hope — the sexual satanist that is Gilfoyle offers the most interesting personality in a series that lampoons tech-biz stereotypes.
Here's the trailer: