Get the Midnight Mint Mocha Frappuccino at Starbucks Happy Hour on Friday
Finally, a Frapp for the all the brooders out there.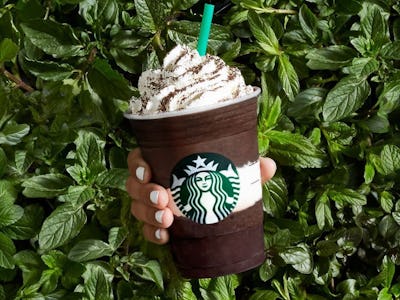 There's an unlikely character in the latest addition to the Starbucks Frappuccino lineup — a whimsical parade that includes the Unicorn, Dragon, and Mermaid Frapp — and it goes by the name Midnight Mint Mocha Frappuccino. This new extra-dark beverage was revealed, along with a limited resurrection of Frappuccino Happy Hours, in a surprise announcement on the Starbucks Newsroom website on Tuesday. Both will be available for a limited time only — the Frapp is available throughout the summer and the Frappuccino Happy Hour begins Friday and runs daily until May 14.
Unlike the custom riffs on the Unicorn Frapp — like the Dragon Frapp and the Mermaid Frapp — the Midnight Mint Mocha Frappuccino is officially sanctioned by Starbucks. Next to these vibrant and sometimes unbearably sweet Frapps, the Midnight is a medley of layers: two darker, richer layers of "extra-dark cocoa blended with coffee, milk, and ice, infused with cooling mint sugar crystals" with a whipped cream layer in the middle and on top.
While this Midnight Mocha Frapp seems like an about-face from the trending mythical creature-inspired Frapps, the coffeemaker's beverage development manager, Ryan Coombes, insists otherwise: "People are gravitating toward vibrant colors. … Jet black is filling the void in unexpected places."
The dark hue was inspired both by a burgeoning food trend on social media (e.g. "black macarons," "charcoal ice cream") and by "thoughts of dark starry nights, looking up at the sky with a cool summer breeze" says Jennica Robinson, a member of the Starbucks beverage development team. But despite being dark, it's still a cold Frappuccino with a minty flavor, so it's bound to be refreshing AF.
Also announced Tuesday: The classic S'mores Frappuccino is back to get you in the summer spirit. Meaning if ever there is a time to get the taste of sweet summer in the form of a S'mores Frappuccino or embracing the "thoughts of dark starry nights, looking up at the sky with a cool summer breeze" then Friday will be the day.