'Logan' Blu-ray Includes Black and White Edition and More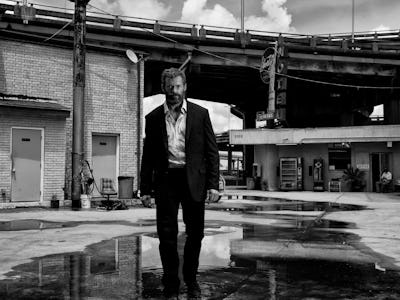 20th Century Fox
Hugh Jackman may have called it quits on being Wolverine after James Mangold's Logan, but fans can relive the viciousness of his final hour over and over again when the movie hits Blu-ray on May 23. Anybody who wants to go above and beyond, though, can purchase the special limited edition at Walmart and get nifty extras like a commemorative nine-poster set and Logan Noir, the special black and white cut of the film that's hitting theaters for one day on May 16.
According to The Hollywood Reporter, the special features for the 4K, Ultra HD, and Blu-ray releases of Logan will be the following:
Logan Noir: a black and white version of the film
Audio commentary from James Mangold
Deleted scenes with optional audio commentary from James Mangold (Blu-ray exclusive)
Making Logan, a behind-the-scenes documentary (Blu-ray exclusive)
Mangold confirmed the release of the black-and-white cut of Logan months ago in an interview after the film's spectacular opening weekend. The idea came from the movie's unique social media promotion, which was predominantly on Twitter and on the @wponx Instagram, in which black and white pictures from the set were uploaded leading up to the release.
"It caused such an extreme reaction, and so much appreciation for these pictures, and then people immediately [were] wondering if the film itself was going to be in black and white, and so we are giving it a whirl, and I think the Blu-ray will come out with a pass on it," Mangold said.
Logan will be released on 4K, Ultra HD, and Blu-ray on May 23.