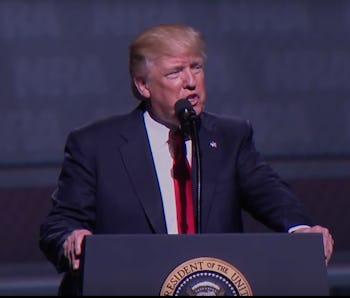 Culture
Here's What Donald Trump Just Said About MS-13
The president called out the violent gang in his speech to the NRA.
YouTube
President Donald Trump and his Attorney General Jeff Sessions have made the MS-13 gang their prime target in the administration's pledge to get tougher on organized crime. Trump himself called them out in his speech Friday at the National Rifle Association Leadership Forum, using the gang as a criminal foil to "law-abiding gun owners" in the U.S.
For too long Washington has gone after law-abiding gun owners while making life easier for criminals, drug dealers, traffickers, and gang members. MS-13, you know about MS-13? It's not pleasant for them anymore folks, it's not pleasant for them anymore. That's a bad group. Not pleasant for MS-13. Get 'em the hell out of here, right? Get 'em out.
Sessions traveled to Long Island on Friday, where he pledged to eradicate the gang. In the past few months, the region has suffered several homicides that are potentially linked back to MS-13.
Trump's remarks played up fear of the group while denouncing efforts made to increase gun control by politicians on the left. Playing to a common favorite argument among NRA members, the president said that if such measures were allowed to succeed, "only the criminals will be armed," a popular refrain from pro-gun lobbies that is not supported by scientific research into firearm violence.
So What Exactly Is MS-13?
Despite their recent presence in the area, MS-13 didn't originate on Long Island. The gang actually began in the 1980s in the "barrios" of Los Angeles, areas with large Hispanic populations and a high poverty rate. Originally, these neighborhoods were home to largely Mexican residents, but that changed with an influx of Central American immigrants driven out of their native countries by the wars and violence in El Salvador, Guatemala, Nicaragua, Honduras, and others.
MS-13 quickly grew to be the strongest of the new, Central American gangs that cropped up to rival the already established Mexican gangs in the barrios. 'MS' stands for Mara Salvatrucha, which itself is an amalgam of Central American slang that roughly equates to "Gang of Clever Salvadorians." The group quickly became renowned for an ethos of brutal violence and merciless revenge.
The "13" in MS-13 comes from the fact that "M" is the 13th letter of the alphabet. It was added after the gang allied with the Mexican Mafia and became a supplier of hitmen in its wider gang alliance.
Today, MS-13 is deeply entrenched on an international level, spreading from L.A. to Long Island to the Central American countries that were once home to its founding members. It engages in a wide range of crimes, such as extortion, kidnapping, drug trafficking, human smuggling, and a number of other issues among the more violent organized gangs in the United States.
Insight Crime notes that, within the United States, "the gang operates much more like an average street gang, with an emphasis on local drug sales and 'protecting' urban turf."
Why Did Trump Bring Them Up?
Knowing MS-13's history and legacy, it's easy to see why Trump and Sessions have chosen them to be the first public focus of their "rule of law" efforts. The gang was founded by immigrants — and still exists today as a non-white criminal organization — who commit violent crimes within the United States. They represent the stereotypical example of the kind of "armed criminal" that Trump warned about, which conservative members of the NRA already tend to fear.
And theirs is a problem that can be solved, in Trump's mind, with more immigration enforcement, which is why he said the U.S. needs to "get them out of here" to the NRA, whose members are a base of supporters more than ready to receive that message.
While no one would argue that destroying MS-13 would be a bad thing, it's important to keep in mind that highlighting the presence of the gang in the United States is also an easy way for Trump to solidify his "tough guy" stance on both immigration policy and criminal justice (without acknowledging his promised "wall"). It makes for a convenient talking point and a convenient way to drum up fear around his favorite issue.