'AHS' Season 7 to Open With Real Footage of Trump and Clinton
"We don't have actors playing them."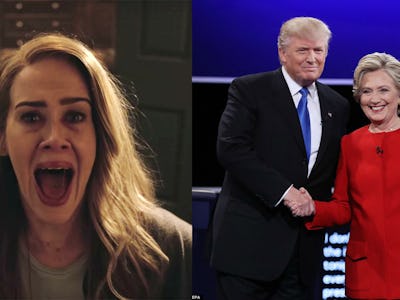 FX, Daily Mail
The seventh season of Ryan Murphy and Brad Falchuk's American Horror Story hasn't been playing it nearly as close to the vest as previous seasons. AHS Season 7 already has a theme, the 2016 presidential election and, after a lot of guessing games about who will play the presidential candidates, Donald Trump and Hillary Clinton, fans finally have an answer: Season 7 will use real footage of election night.
"We don't have actors playing them," Murphy told E! News. "You'll see them on television. The first 10 minutes of the season, this season, takes place in a very eerie macabre way on election night, and there's something terrible that happens in the lives of our characters on election night as they're watching it all go down. Which in itself was a horror story, so it's like a horror story upon a horror story."
So, it seems no one in the cast will actually be playing Trump or Clinton. Instead, the characters will be living in a post-Trump world that will make its way into their own horror story, of which the world knows nothing. The mystery continues.
Currently, the only AHS veterans signed to the show are Sarah Paulson and Evan Peters. They'll be joined by newcomers Billie Lourd and Billy Eichner.
American Horror Story Season 7 does not currently have a release date but is expected sometime later this year.