Scream Queen Billie Lourd Joins 'American Horror Story' Season 7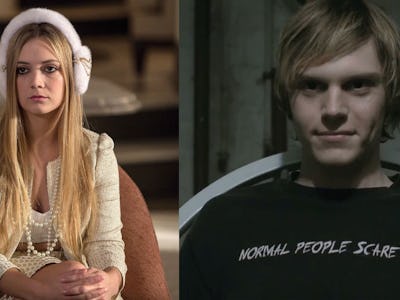 MTV, FX
The upcoming season of Ryan Murphy's American Horror Story is shrouded in its trademark mystery. However, unlike the agonizing lead-up to past seasons, at least Season 7 already has a theme in the form of 2016's presidential election, which is obviously one of the scariest things in recent American memory. The only additional information AHS fans have been fed for the past few weeks is casting news. Billie Lourd, breakout star of MTV's Scream Queens, has been cast alongside AHS alumni Sarah Paulson and Evan Peters.
Lourd, who will reprise her role as Lieutenant Connix in the upcoming Star Wars: The Last Jedi alongside her late mother, Carrie Fisher, will have a leading role in the upcoming seventh season of American Horror Story, FX announced on Thursday. There is absolutely no telling who, exactly, Lourd will play, as nothing about the plot or characters has been revealed other than the general "election" theme. As always, Murphy is tight-lipped.
Many have theorized that AHS Season 7 will take the election theme quite literally and will cast characters accordingly — some expect Paulson to play a female Donald Trump, while others, with the news of Lourd's casting, are saying Lourd would be the perfect Ivanka Trump.
Lourd joins the current Season 7 lineup of Paulson, Peters, and AHS newcomer Billy Eichner.
American Horror Story Season 7 does not currently have a premiere date.