Rumors of EPA Website Shutdown Create a Micro-Panic
The website is safe -- for now.
by Monica Hunter-Hart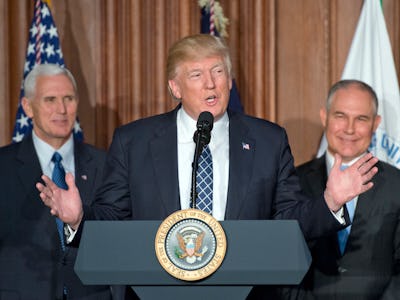 Getty Images / Pool
A weird thing happened on the internet on Monday: Rumors that the Environmental Protection Agency's open data portal would shut down on Friday circulated over a confusing website alert: "This site will be shut down Friday, April 28, 2017," it read.
This led to a widespread citizen freakout that was undeserved: The EPA has clarified that the site, which shares information about EPA regulated facilities such as power plants, isn't going anywhere. Even though the portal is safe for now, the episode drew attention to the instability of public data when it becomes politicized.
The tumult began when the CEO of an EPA contractor posted to Medium on Sunday that she'd received an email from the EPA notifying her that "we need to be ready to turn-off the EPA Open Data web service by noon on April 28, 2017 — the last day of the current continuing resolution. If Congress does not pass a budget, we will be facing a government shutdown and won't be able to give technical direction to continue any work."
The email references a potential impending government shutdown, which will occur if Congress does not pass a spending resolution by midnight on Friday. During a shutdown, most government websites are unable to be updated or maintained. It's a routine side effect of a non-routine event.
However, distorted information based on that Medium post — fueled by that foreboding pop-up — rapidly began spreading. Folks feared that the website was being completely and permanently shut down; campaigns were even launched in which activists began downloading data off the open data portal in case it disappeared.
Of course, the micro-panic isn't completely without reason. Since taking office in January, President Donald Trump has been characteristically loud about eliminating various regulatory bodies and the websites that go with them, including the EPA.
This was that pop-up spotted on Sunday.
The EPA has since clarified that the website isn't going anywhere.
And they've updated their popup message.
That's good news, but it's not the end of the story. This event is a reminder that "open data" isn't guaranteed to stick around. Websites cost money not only to update but also to maintain, and the incentive to keep funding them is threatened when data becomes politicized — as is happening now, since the U.S. government led by Trump has disputed climate change evidence. Climate research is partially aided by the EPA portal.
We already know that Trump wants to slash the EPA's funding, so there's no guarantee that this website will have the funds to operate in the future.
The website is safe for now, though that may not always be the case. While you can, go check it out. You can do neat stuff, like look up the industries that pollute your neighborhood. It may be grim reading, but at least you're able to access it.