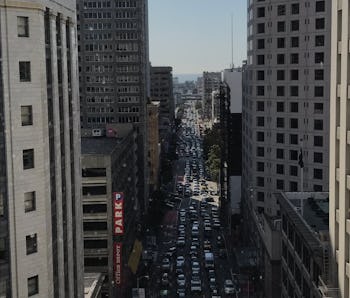 Innovation
Everything We Know About the Power Outages in SF, NYC, and L.A.
The San Francisco outage was by far the largest.
Twitter
On Friday morning a trio of concurrent power outages hobbled New York, Los Angeles, and San Francisco, three of America's fastest moving cities. Here's everything we know so far about what happened.
New York Outage
The power outage in New York occurred around 7:20 a.m. when generators for the 7th Avenue and 53rd Street subway hub failed for unknown reasons. Problems in the subway were first acknowledged in a 8:50 a.m. tweet by the city's MTA. The resulting power loss left morning commuters stranded — some in the dark on subway cars traveling between stations, as MTA employees scrambled to correct the issue.
The MTA reported the outage fixed at 11:30 a.m., but significant delays were reported throughout the subway system during the morning commute and into the afternoon. The MTA assured New Yorkers that conditions would return to normal by the time afternoon rush hour began. New York Governor Andrew Cuomo chalked up the incident to Con Edison equipment failure.
L.A. Outage
The Los Angeles outage, like the one in New York, appears to have been localized. It affected Los Angeles International airport, where a number of people took to Twitter to report an incident.
LAX's official Twitter account, however, was mum about any major power loss. It did put out a tweet at 9:27 local time regarding malfunctioning traffic lights, but that was all.
Travelers in the airport, however, reported long, slow lines at TSA checkpoints.
San Francisco Outage
But it was the massive outage in northern San Francisco, affecting up to 90,000 people and shutting down the entire financial district for the morning, that stole the show. PG&E reports that about 88,000 customers were affected.
It began with a substation fire on Larkin Street, although officials with Pacific Gas and Energy were initially hesitant to label that fire as the primary cause.
By about 10 a.m. local time, just as the work day was kicking off (on a Friday, no less), the outage had reached its peak.
The outage affected numerous neighborhoods and districts, including parts of SoMa, Richmond, Nob Hill, and Pacific Heights. A number of BART stations were closed and traffic lights were down, resulting in groan-inducing backups all around the city.
Once the cause of the outage was officially determined to be the fire, a PG&E spokesperson told Inverse that the company hoped to restore power to the majority of its customers by 5 or 6 p.m. Pacific.
San Francisco Police have also assured anyone concerned by or suspicious of the fact that all these outages occurred at the same time that it was indeed an unrelated incident.
As word of the outages spread throughout the day, concerned citizens and angry commuters searched for someone to blame.
Many settled on President Donald Trump's Secretary of Energy, Rick Perry. Because, well, why not? An impromptu meme was formed with Twitter users using the outages as an opportunity to show their lack of confidence in the man who (technically) is in charge of America's energy grid.
And who can blame them? After such a difficult day of commuting, it's safe to say people are need of some catharsis.
This story is developing and will be updated when more information is available.