People are Blaming Rick Perry for Friday's Three-City Power Outage
His 'Dancing with the Stars' appearance does come up.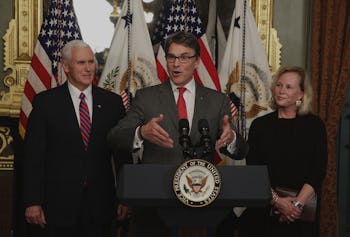 Getty Images / Alex Wong
The prospect of simultaneous power outages in three of America's largest, most plugged-in cities — New York, Los Angeles, and San Francisco — was made into a reality briefly on Friday, offering a snapshot of what the early moments of a terrorist attack or just widespread failure might look like.
While not exactly true, people were blaming Secretary of Energy Rick Perry on Friday for the whole thing. Perry was actually in Texas, marking Earth Day and talking up wind power, but his Dancing with the Stars appearance did come up.
Of course, Perry wasn't directly responsible for any of this, but the Department of Energy does oversee regulation of the power grid, described as "a transmission system" that "is the interconnected group of power lines and associated equipment for moving electric energy at high voltage between points of supply and points at which it is delivered to other electric systems or transformed to a lower voltage for delivery to customers."
Some did a comparison to Homer Simpson.
As did Johnny from Airplane.
Some think he's just dim.
One likens it to Bush after Hurricane Katrina.
OK, this is definitely not the reason.
Eliminating these sorts of outages and protecting the grid from attacks is something Perry's very much involved with. So far, the DOE hasn't made any statements about Friday's outage.