More Americans Than Ever Support Legalizing Marijuana
Nearly two-thirds of Americans think the drug should be legal.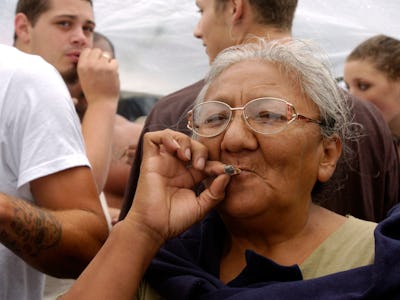 Getty Images / Ron Wurzer
Good news for marijuana enthusiasts this 4/20: More Americans than ever before are in favor of legalizing the drug.
According to a new CBS poll a full 61 percent of the country, when asked, responded that marijuana should be legal. Sixty-five percent of people actually think that marijuana is less dangerous than other drugs as well, indicating increased public awareness of distinctions that marijuana advocates have been trying to draw for decades.
The poll's results put support for legal weed up five percent from 2016, when 56 percent supported it, a 21 percent from 2011 — it had a mere 40 percent support back then.
Overall, the poll results represent the continuation of a dramatic shift for Americans, who not 30 years ago, in 1979, were overwhelmingly against the idea of legalized weed. It only had 27 percent support back then. But vigorous campaigns for legalization, alongside growing frustrations about the state of drug laws in America, have done much to turn the tide. Indeed, the drug is now legal for at least medicinal purposes in a majority of states.
Perhaps the most surprising of the study's findings is that a majority (53 percent) of Americans say that alcohol — nice, legal alcohol — is in fact more dangerous than marijuana. Only 7 percent think marijuana is the more dangerous of the two.
U.S. Attorney General Jeff Sessions is sure not to favor this outcome. Sessions in the past has compared marijuana use to opioid addiction and promised to do his utmost to oppose its legalization in the long term.
The results of this CBS poll show that he couldn't be more out of line with the opinions of most Americans. Whether or not this swing in public opinion will be enough to deter his efforts remains to be seen, but, if current trends hold, public support of legal marijuana will only continue to grow.