The 8 Best Szechuan Sauce Recipes on the Internet
For when you've just gotta get that McNugget sauce.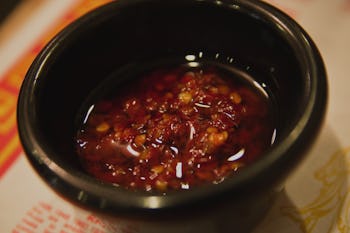 Flickr / Steven Depolo
Whether you wanted it or not, the Season 3 premiere of Rick and Morty ignited a spicy craze for the extinct Mulan-inspired Szechuan dipping sauce from McDonald's. And while fans have been clamoring for the fast food chain to bring the sauce back from the dead — especially in light of an impending live-action Mulan remake — a very simple question remains: Why the heck don't people just make their own delicious Szechuan sauce?
McDonald's, in true "I'm lovin' it" spirit, is listening to fans. Spokesperson Terri Hickey said in a statement, "We never say never because, when our customers speak, we listen."
But just listening isn't good enough, and as they say, if you want something done right, you should do it yourself. Lucky for you, a bunch of people have already done just that.
So here are eight of the best Szechuan sauce recipes to whet your appetite:
Binging With Babish's Three Takes on Szechuan
Perhaps the earliest and most widely distributed attempt at trying to make a sauce specifically meant to bring back that sweet McDonald's flavor came from Binging with Babish, a cooking show on YouTube focused on "discovering what the delectable (and occasionally horrible) foods from fiction actually taste like." What better material is there than the McDonald's Szechuan sauce?
In the above video, Binging with Babish attempted three different recipes, the first of which was a legitimate Szechuan sauce featuring toasted red dried Chinese chilis, toasted Szechuan peppercorns, fresh ginger, sweated garlic, sesame seed oil, rice wine vinegar, soy sauce, and brown sugar. This one is extremely spicy but "extremely tasty."
In a second recipe — given to him by a redditor who claims to have recreated the sauce from memory — Binging with Babish cooks up sweated garlic, balsamic vinegar, soy sauce, plum sake, Sriracha, a lot of brown sugar, chili paste, and fresh ginger. It's "sweet, spicy, and tangy" and seemed to be the favorite.
But in another stroke of brilliance, Binging with Babish also combines two parts of McDonald's Sweet 'n Sour sauce with one part of their Tangy Barbecue.
In the final moments of the above video, he actually combines all three sauces together — because why the heck not?
Ina Garten's Szechuan Noodles Sauce
A true queen of cooking, Ina Garten actually has her own Szechuan-style sauce that predates the Rick and Morty-fueled craze. She calls is a "sort of Tex-Mex meets Asian fusion" recipe. Sure, Ina.
Her sauce itself is thinner and lighter in color than the McDonald's ideal, but its ingredients list hits all the right items and then some: ginger, garlic, vegetable oil, tahini, peanut butter (which sort of makes this a very different kind of Szechuan flavor), soy sauce, sherry, sherry vinegar, honey, chili oil, sesame oil, and ground peppers. Expect this one to be sweeter and creamier — particularly due to the peanut butter — while lacking the kind of smokey flavor you'd ideally want. It's still probably worth a taste, though. I mean heck, it's Ina!
YouTuber Trinime's Sauce Recipe
YouTuber Trinime put out the above video detailing a recipe for Szechuan sauce very quickly after the Season 3 premiere aired. In it, he attempts impressions of Morty and Rick throughout while narrating what appears to be a solid recipe.
It involves soaking chili peppers in water, which softens the texture and makes the flavor milder. Then you mash up the chilis and mix them with a small amount of water to make a thin paste. After heating a mixture of vegetable and sesame oil, you add a bunch of minced garlic and ginger. Then, everything gets simmered together with pepper, brown sugar, soy sauce, and white vinegar, all before adding a liberal amount of ketchup for that authentic fast food flavor.
Moviepilot's Szechuan Sauce, "Rick and Morty Style"
Moviepilot put out its own video, detailing an interpretation on a Szechuan sauce that claims it is "fucking delicious." They've got soy sauce, chili sauce, cayenne pepper, corn flour, ginger, sugar, garlic, and stock. They more or less mix everything but the flour together to heat up in a pot. The flour is mixed with stock as a thickening agent.
I mean this is meant to be a dipping sauce after all, right? They also make the classy choice of straining the final product to remove the inevitable chunks that might linger.
Nicole McLaughlin's Szechuan Teriyaki Dipping Sauce
Presentation is everything for Nicole McLaughlin's recipe, available at MyRecipes.com. It involves dissolving brown sugar into vinegar over heat before adding ketchup, soy sauce, chile-garlic sauce, onion powder, and ground ginger. She bills it as a "ultra-flavorful dipping sauce that's perfect on meat, chicken, and stir-fried veggies," but it's clearly best on some of those McNuggets.
Perhaps the best part of this recipe is that it's very no frills. There's no chopping or grinding involved. As long as you have these ingredients, the necessary measuring spoons, and a sauce pan, you're good to go.
Mix Up the Actual Ingredients on the Packaging
A number of the ingredients in the actual sauce are artificial, but a closer look at the packaging reveals some items that you can definitely collect in the pursuit of recreation: tomato paste, grape vinegar, distilled vinegar, salt, soy sauce, garlic powder, dried chili peppers, and onion powder. Succinic acid is used to balance acidity levels, sodium benzoate is a preservative, malic acid adds a sour flavor, cellulose gum and xanthan gum are thickening agents, and high fructose corn syrup and dextrose are the cheap sweeteners. Starting at the base ingredients and adding brown sugar for sweetness is a solid start, but beyond that, you'll need to experiment to figure out their unique concoction of spices.
It'll be hard to get any measure of authenticity, but the general consensus of ingredients seems to be actual chili peppers soaked in water, Szechuan peppercorns, brown sugar, some smattering of ginger and garlic, vinegar, and soy sauce. Throw in some sake for good measure, because let's face it, Rick would want the booze, and true teriyaki has sake in it anyway. Let's just hope it takes you less than nine seasons or 97 years to get the recipe right.