Someone Made the 'S-Town' Maze in 'Minecraft'
This may be the closest we get to experiencing John B. McLemore's creation.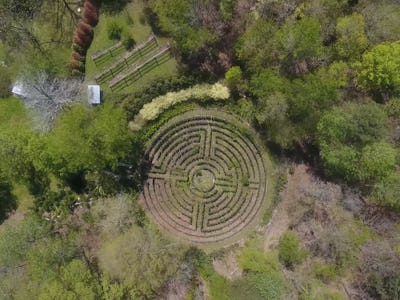 YouTube
The famed hedge maze created by John B. McLemore and prominently featured in S-Town — the internet's latest podcast obsession from the creators of Serial and This American Life — has officially been given the Minecraft treatment. That's right, one dedicated fan of both podcasts and video games scouted out the IRL maze and rebuilt it one pixelated bush at a time.
While less visually astounding than, say, recreating Game of Thrones's King's Landing in its entirety, rebuilding the maze from aerial footage is not just impressive, but it's crucial to John B.'s legacy. From the photos that have surfaced showing the sad after-effects of the abandoned hedge maze, it doesn't seem possible that anyone will see the maze reach maturity. This Minecraft creation give us a chance to experience the 64-solution (one is rumored to be unsolvable) puzzle.
YouTuber Coty Batemon claims to live not far from the land in which McLemore creation is rooted. Using the exact coordinates, Batemon captured footage via an aerial drone. Batemon then supposedly rebuilt the maze in Minecraft. In the below video, he proceeds to get a little lost himself for a bit before finding a chest at the center. Fast-forward to the end if you want to see the slow zoom out.
And, for an easy visual comparison, here's the real maze and an aerial view of the Minecraft counterpart:
Listen to all seven episodes of S-Town right now wherever you get your podcasts.