Everything You Missed at the Star Wars 40th Anniversary Panel
Nostalgia was favored over news or any new footage.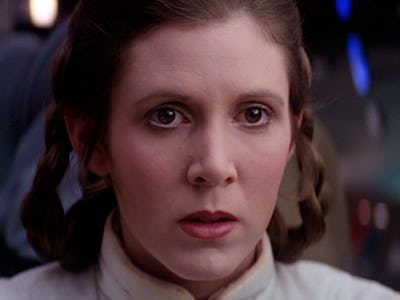 Starwars.com
There was no trailer for The Last Jedi at the 40 Years of Star Wars panel at Star Wars Celebration in Orlando, Florida. Instead, the opening festivities mostly focused on looking back at the the franchise's rich history, opting to save the big reveals for the second day of the convention.
On Thursday, the highly anticipated anniversary panel delivered on showcasing guests from the past of the franchise, as well as surprise guests. Here's everything that happened:
George Lucas Waxed Nostalgic
After Lucasfilm chief Kathleen Kennedy kicked things off with class, the first surprise guest, George Lucas himself talked to host Warwick Davis about the good old days. If you're a huge Star Wars fan, there wasn't much new here. The best bit was probably Lucas talking about rewriting the first film while the movie was in production.
Samuel L. Jackson and Liam Neeson Teased Awesome Fake Movies That Will Never Happen
Early in the panel, the easy show stealers were Samuel L. Jackson and Liam Neeson. While thanking fans for their support of Star Wars, Neeson claimed to be working on a "secret movie" which revealed Jar Jar Binks turned to the Dark side. Meanwhile, Samuel L. Jackson demanded that Mace Windu come back, and said his Jedi character was in fact, not ever really dead.
Harrison Ford and Mark Hamill Made Fun of George Lucas
Mark Hamill and Harrison Ford are never going to let George Lucas live down the wonky dialogue in the original script. If there is a 50 years of Star Wars panel in ten years, hopefully George Lucas will get a break, but not this time. Harrison Ford also said Star Wars had no impact "whatsoever" on his life.
Hayden Christensen Talked About Lightsabers
Fans were pumped about the return of Anakin Skywalker to a Star Wars convention, but the result was a little awkward. It was not revealed that Anakin Skywalker would return to Star Wars, and Hayden mostly talked about making lightsaber sounds with his mouth while filming Revenge of the Sith.
Everybody Cried Over Carrie Fisher, and John Williams Gave a Surprise Concert
After a touching introduction from Carrie Fisher's daughter, Billie Lourd, the centerpiece of the 40th anniversary panel was revealed: an excellent tribute to the life of Carrie Fisher and her involvement in Star Wars. Behind-the-scenes footage of Fisher was mixed with her hilarious contemporary interviews. There was even a quick glimpse of Rian Johnson and Carrie Fisher on the set of The Last Jedi. After the video concluded, John Williams gave a surprise concert, which kicked off with Princess Leia's theme.
Star Wars Celebration continues tomorrow in Orlando, Florida. A trailer for The Last Jedi is expected tomorrow at the panel about The Last Jedi which will stream at 11 a.m. Eastern.