The Best 'Black Mirror' Episode Ever Won a GLAAD Media Award
"San Junipero" tenderly depicts a queer techno-utopia.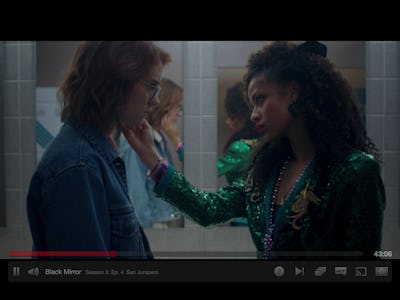 Netflix
Most Black Mirror episodes present a grim vision of the future. As the show approaches themes including deadly video games and gruesome internet vigilante justice, it shows a dystopic near-future in which characters' lives are often destroyed by technology. But there are bright spots in the relentless bleakness, too. Sometimes Black Mirror shows how technology can support joy and fulfillment. One episode in particular does that, and it's now being publicly hailed for its fair and compassionate portrayal of LGBTQ characters.
On Saturday, the non-profit LGBTQ media-monitoring group GLAAD recognized Episode 3's "San Junipero" for its inclusiveness with the prize for Outstanding Individual TV Episode at the group's 28th Annual Media Awards. This isn't the first public acclaim for the episode, which quickly became a fan favorite upon its release, but it is edifying to see a series whose typical moods are fatalism and fear earn recognition for its sensitive illustration of a queer love story.
"San Junipero" dramatically strays from the oppressive tone of the rest of the science fiction series. It is Black Mirror's most — possibly only — uplifting episode, and arguably the best.
It takes place in 1987, in the resort town of San Junipero. The series description aptly and ominously sets up the episode: "A shy young woman and an outgoing party girl strike up a powerful bond that seems to defy the laws of space and time." So from the beginning, we know that the story of Yorkie (Mackenzie Davis) and Kelly (Gugu Mbatha-Raw) is not what it seems. (Spoilers ahead.)
The two women meet at a club, and right away their roles are defined: Yorkie is shy and grounded, a bit dorky, while Kelly is a fashion-conscious wildcard, the object of many people's desires. They're drawn to each other, and after some uncertainty on Yorkie's part — she reveals that she's engaged — they sleep together at Kelly's beachfront house. Then, in an ever deeper moment of revelation, Yorkie tells Kelly that was her first time having sex.
The next week, Yorkie looks for Kelly at the club where they met, but can't find her. In the first major clue that something is not what it seems, a man who knows Kelly tells Yorkie to "try a different time." Yorkie does just that, and eventually finds Kelly in San Junipero in the 2000s, but Kelly is guarded and seems to shy away from commitment. Getting to the root of the matter, they discuss Kelly's fear of forming a connection with someone in San Junipero. Kelly confesses the truth: She's dying. The attraction is palpable though, and after they sleep together again, Kelly asks to meet Yorkie in the real world.
This is where the story makes its big twist: San Junipero is a simulation. It's a virtual reality world into which dying elderly people can go for five hours a week to live like they're young again. Once they die, they can have their consciousness uploaded and live there forever. It sounds grim, but the execution makes it seem quite beautiful. Even in a generally positive episode, though, director Owen Harris tells The Hollywood Reporter that the classic Black Mirror tendency to defy expectations is there, if maybe in reverse.
"What's nice about Black Mirror is in the end, they always end up subverting everything slightly. They always give you a slightly different take on everything," he tells THR. "Even though you're left with this uplifting, optimistic feeling, beneath the surface there is something slightly lurking in terms of the decisions that we do make."
The episode's chief conflict arises when an elderly Kelly, in the real world, finds out that Yorkie has lived in a vegetative state for 40 years, kept alive at the wishes of her religious family. Yorkie's fiancée, Greg, turns out to be her nurse whom she plans to marry in order to override her parents so she can be euthanized and live full-time in San Junipero. Kelly marries Yorkie in Greg's place and fulfills Yorkie's wish. But then, when Yorkie asks Kelly to join her, Kelly admits that she doesn't plan to be uploaded into San Junipero because her husband died without having his mind uploaded into the program.
But … well, you can guess how it ends, or perhaps you already know, and you're tearing up just thinking about it.
Even as the final shot shows the massive servers that house the consciousnesses of all the people living in San Junipero — with Belinda Carlisle's "Heaven is a Place on Earth" playing over it — the viewer is left thinking less about death and more about the labor of love that goes into creating a program like San Junipero, the happiness that it brings people in their final days.
Virtual realities in science fiction usually suggest subjugation or some kind of negative escapism, but the tone of "San Junipero" is tender and refreshingly uncynical. Winning the GLAAD Outstanding Individual TV Episode will surely bring the episode some renewed interest from fans and neophytes alike.