Heaven Is the 1980s of the First 'Black Mirror' Period Episode
How the surprisingly optimistic episode of Charlie Brooker's series rethinks the way we fear death.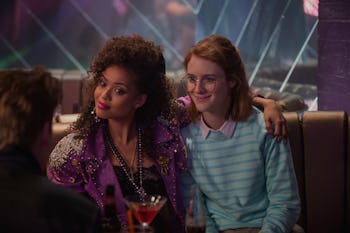 Netflix
In "San Junipero," the third episode of the third season of anthology series Black Mirror, nostalgia is better than death. In fact, nostalgia even makes people no longer fear the end of their lives, which makes "San Junipero" stand out.
An episode about mortality fits with the emotionally dark technological themes that have made the show, now streaming in full on Netflix, so notorious. But Black Mirror has always been wary of the people yielding that technology instead of the technology itself. "San Junipero" is among the only episodes of the show — maybe the only — to show that such full-scale technological takeover could actually make us better and more fulfilled humans, but only if we choose to be. Ironically, it does that by being set in the 1980s.
The first half of the episode is innocuous enough to fool viewers into thinking this is a simple relationship drama. Yorkie (Mackenzie Davis) is a solemn, khaki-shorts-and-glasses-wearing nerd who strolls down a neon-hued street in the seaside resort town of San Junipero. She stands out amongst the pastel-loving twenty-somethings who congregate outside a rowdy nightclub called Tucker's, the exterior of which is plastered with a poster for the teen vampire flick The Lost Boys. "Belinda Carlisle there with one of the biggest hits of 1987," a DJ blares over a car stereo, referring to the track "Heaven is a Place on Earth."
Soon Yorkie reluctantly wanders into the club, first to play a stand-up arcade cabinet of Bubble Bobble. Then she finds herself caught up in a lover's spat with a woman named Kelly (Gugu Mbatha-Raw), who whisks her away onto the dance floor and eventually — after a conspicuous one-week delay — into her bed, despite Yorkie's reluctance to do so beyond midnight. Her conservative family and her husband-to-be named Greg, she says, wouldn't like her messing around with another woman very much. When Yorkie shows back up at Tucker's again, she can't find Kelly, which makes it even more confusing for her.
Because this is Black Mirror after all, the audience is looking for the catch, and when Yorkie suddenly shows up at the club again, and we're told it's now 1980, we begin to figure out whats going on. A week later, with Alanis Morissette's "Ironic" playing on a TV and the Lost Boys poster on the outside of Tucker's now an advertisement for new horror classic Scream, it's obvious that she has now jumped to 1996. Then it's off to 2002, which we can identify by the Bourne Identity poster on the building. She finally finds Kelly, stomping down in a game of Dance Dance Revolution, and tells her, "This isn't your era." They eventually decide to meet in real life. The Black Mirror jig is up.
San Junipero is a kind of digital limbo, an evergreen simulation where the near-dead can spend weeklong jaunts in a constructed purgatory, which helps them to decide whether or not to have their consciousness and ideal image uploaded to the cloud there forever once they've passed on. Kelly and Yorkie, we find out, are both much older than they appear in San Junipero, and the midnight limit allows living users to keep a grip on reality in "immersive nostalgia therapy."
We also find out that Kelly, nearing the end of her life due to a a terminal disease, had been married to a man who also died from an unspecified illness, and that Yorkie is a quadriplegic in a coma who lost the use of her limbs when she was in a debilitating car accident at 21. She'd been so upset after coming out to her resistant parents and being rebuffed that she lost control at the wheel. In the real world she plans to marry her nurse, Greg, who agrees to the marriage so that he can sign a form allowing her to die against her strict family's will and carry out her wishes to be uploaded to San Junipero permanently.
When they meet in real life, Kelly offers to marry Yorkie instead, and the pair share their wedding night in San Junipero before Yorkie goes there forever. But we soon find that Kelly's ex-husband refused to be uploaded to San Junipero because their daughter died before the technology was created. "When she missed out, how can I?" he told Kelly about the guilt he felt for their daughter, before deciding to die without going to San Junipero.
Kelly seems like she'll follow him, even though she feels there's no heaven after death, meaning her husband and daughter won't be there waiting for her. But Kelly ends up staying in San Junipero in the 1980s construct with Yorkie after all, not only because she realizes she shouldn't hold on to her grief, but because that chosen era is the ideal place to keep living for as long and as good as she can with someone who loves her.
In this way, that kind of technologically-infused nostalgia eases a person's fear of death because they're able to harness it. An unreal paradise like San Junipero is usually seen as a huge red flag in classic sci-fi, and Kelly is well aware that the technology probably won't last forever, but she's willing to suspend her cynicism to take that risk. In Kelly and Yorkie's cases, this exaggerated, heavenly view of the 1980s, replete with nothing but the hits on the radio and the best movies and video games available forever, is beneficial nostalgia.
"They say in heaven love comes first / We'll make heaven a place on earth" goes the opening lyrics in Belinda Carlisle's song heard earlier, and also in the episode's climax. For Kelly and Yorkie, that heaven is with each other in the 1980s.