Twitter is Ridiculously Happy to Have Dave Chapelle Back
We need his jokes right now.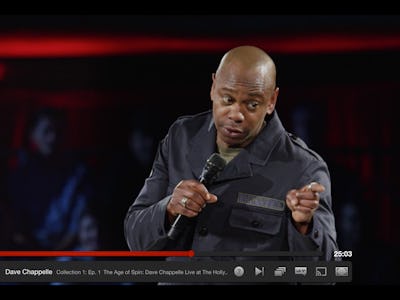 Photo via Netflix
Dave Chappelle is back, folks. It's been over a decade since his sketch comedy series Chappelle's Show met an infamous, unexpected end during its third season. Stand-up fans had a collective freakout in November when Chappelle first announced his return after an excellent SNL hosting gig, but that's nothing compared to the infectious hype that's been all over Twitter this week. Two of Chappelle's previously recorded, but never-released routines finally came out on Netflix last night — plus there'll be an original special soon — and the result is mild hysteria.
The excitement is totally warranted. Despite Chappelle's Show's short run, the series has secured a place in TV legend. Love for the show has only grown since its conclusion; Entertainment Weekly considers it a "new classic." Chappelle picked an ideal time to return, too: The country has a particularly voracious appetite for comedy these days to offset all this political turmoil.
Of course, it's not like Chappelle has been completely absent from entertainment until now. He did some sporadic gigs between the end of Chappelle's Show in 2006 and 2012, and began touring full-time again in 2013. He made a long-awaited return to film by appearing in Spike Lee's Chiraq in 2015.
But these widely-available new routines are something different, and Twitter knows it:
It's not just us plebeians who are stoked:
The specials dropped today, so what are you waiting for?! Watch the trailer if you like, and then go and check out the new shows on Netflix.