3 New Dave Chappelle Comedy Specials Are Coming to Netflix
The news comes a week after Chappelle's hosting stint on SNL.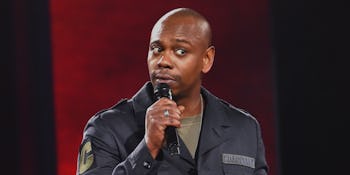 BET.com
Dave Chappelle and director Stan Lathan have signed on to create an original comedy special for Netflix, marking a much-needed comeback for the brilliant, often controversial, and always poignant Chappelle. Alongside the original special will be two previously taped comedy specials from Chappelle's private collection — shows filmed at Austin City Limits and the Hollywood Palladium — to be released simultaneously on Netflix in 2017.
Chappelle recently played host of Saturday Night Live on November 12, nabbing the show its best rating in the past three years, helped along by the episode's musical guest A Tribe Called Quest. The pairing felt especially significant after the presidential election on November 8, and Chappelle urged America to give President-elect Donald Trump a chance.
"Dave Chappelle is a legendary voice in comedy — searing, vital, and now more than ever, essential," Lisa Nishimura, Netflix VP of original documentary and comedy, said in a statement Monday. "Dave's three new specials promise to be some of the most anticipated events in comedy, and we are honored he will mark his global return on Netflix."
While Chappelle held prominence in the early- and mid-2000s, contributing to some well-known and popular phrases at the time — which would have, undoubtedly, become memes had they come into prominence 10 years later — he's been laying low in recent years. But his brief time on SNL proved how relevant Chappelle still remains in popular culture.
Be on the lookout for Chappelle's "searing, vital," and "important" specials on Netflix in 2017.