Dave Chappelle Is a Walking Dead Fan and Proved It on SNL
His portrayal of Negan is the probably the greatest thing you'll see.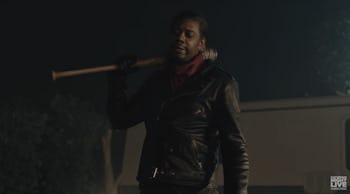 SNL
Dave Chappelle hosted Saturday Night Live this weekend, reviving some of his characters from his comedy series — 'Chapelle's Show — to parody The Walking Dead's gruesome Season 7 premiere.
In an introduction to the sketch, Chappelle told us how people have been bombarding him with questions all week to find out if any of their favorite Chappelle Show characters would make an appearance or not. "At first I wasn't going to," he explained. "Then I saw that episode of The Walking Dead where they smashed this guy Glenn on the head and killed him. I know, it was devastating. I love that show and Glenn was one of my favorite characters, so I was crushed."
In the real episode, Negan (played by Jeffrey Dean Morgan) lines up Rick and his group to play a sadistic game of "eenie, meanie, miney, mo" where the loser gets Lucilled. In Chappelle's parody, he portrays Negan and a host of characters from his show including Tyrone Biggums, Chuck Taylor, Clayton Bigsby, and Lil Jon.
While haters Silky Johnson and Donnell Rawlings gave Chappelle's Negan grief about his name and clothing, it was Clayton Bigsby who undoubtedly stole the scene with his portrayal of the iconic black and blind white supremacist character. When Negan asks if he knows he's black, Bigsby slips on a "Make America Great Again" hat while he replies, "From what I hear, this hat would say otherwise. It's Trump's America now, boy!"
If you want to see which beloved character gets the bat, you won't have to wait six months. Just check out the sketch below.