'The Walking Dead' Season 6 Finale: Negan's Killer Cliffhanger
Who died on 'The Walking Dead'?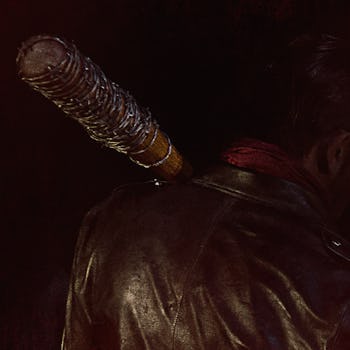 At last, Negan is here. And, as the big baddie played by Jeffrey Dean Morgan puts it, it's pants-pissing time. After a wild goose chase to get a severely ill Maggie (Lauren Cohan) to the doctor at Hilltop, every major player of Alexandria, from Rick (Andrew Lincoln) to Abraham (Michael Cudlitz), finally encountered the ultimate villain of post-zombie apocalypse Georgia. Morgan, far less charming than Denny in Grey's Anatomy, debuted in the The Walking Dead Season 6 finale, "Last Day on Earth" as Negan, wielding his signature baseball bat Lucille. And as predicted, he claimed his first victim.
But the identity of that unlucky victim remains a mystery.
Season 6 ended with a heart-pounding thump, a climactic and terrifying scene with a sharp Morgan absolutely crushing his turn as Negan. It was a bold punctuation to a year of more highs than lows, even with Glenn's (Steven Yuen) bait-and-switch demise to Daryl's (Norman Reedus) cliffhanger ending last week in "East" (he's fine, by the way). Season 6 is indisputably The Walking Dead at its sharpest, regardless of its elongated pacing, shameless teasing, and generally infuriating lack of resolution.
All fan bets aside, The Walking Dead refused to let us viewers witness the brutality first hand. Instead, we're taunted by a game of "Eeny, meeny, miny, moe" and then horrified by a first-person POV, as the frame drips with crimson after the first swing, our view further obscured after each bash. We hear screaming. We hear references to Carl and Rick, so we can rule them out. But anyone else is fair game.
And the show knows you know about Glenn. He was presumed dead last fall, but "Last Day on Earth" successfully used a spoiler to dangle Glenn's fate — playing his fate in The Walking Dead comic. For my money, I think it's him; I heard Maggie cry after Negan's beatings, but she just as well could be screaming for anyone else, given the situation.
Is obscuring and delay the only card The Walking Dead can play? Perhaps, but at least the show does it better than any other across TV. The world's favorite zombie series knows precisely what gets fans agitated, or agitated enough to mouth off on Twitter and Facebook, and uses that to compel us into tuning next week. Or, next fall in this case, allowing summer barbecue debates to fuel interest until September or October. This is Walking Dead's infuriating M.O. (once again, the Glenn fiasco), and while Season 6 was by and large excellent, I can't imagine it working in Season 7.
But until then, we know one thing for sure: That The Walking Dead swung for the fences.