The Bill Nye Documentary Is Pretty Good, Indeed
But its future isn't clear yet.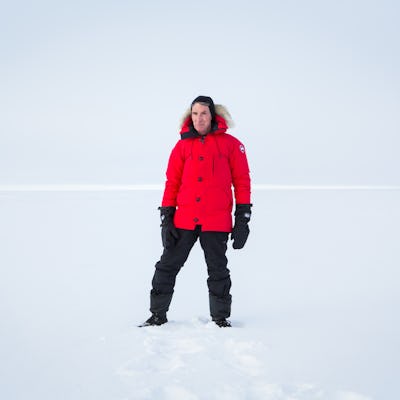 For the world premiere of a movie about his life and work, he made a tasteful low-key entrance.
After some 600 people packed themselves into the SXSW Vimeo Theater last week for the debut showing of Bill Nye: Science Guy, the man himself took a seat in the middle of the crowd to raucous applause. Clad in trademark bowtie, Bill Nye gestured in 360 degrees with an audible "Hey everybody!" before settling in to watch the documentary he had been participating in for more than two years. It would be the first time he had seen it.
Nye of course made his name with Bill Nye the Science Guy, the zany educational TV program that ran from 1993 to 1998 to promote scientific literacy among children. His high-energy antics, always connected to accessible lessons, made him a hit from the living room to the classroom; it's no exaggeration to call him godfather to a generation of contemporary scientists. Now, nearly 20 years after the final airing of his show, we have a movie that answers the question: "Who is the man behind the bow tie?"
Directed by Jason Sussberg and David Alvarado, the Kickstarter-funded Bill Nye: Science Guy — a 15-minute clip of which showed last year at New York's Tribeca Film Festival — follows present-day Nye on his numerous post-showrunner exploits while filling in the rich backstory on the beloved TV scientist. So when can the public see this long-awaited doc? The filmmakers haven't announced a distribution deal.
In the film, we see the still-gangly Nye studying under famed astrophysicist Carl Sagan at Cornell University in the 1970s. We see behind-the-scenes footage from his breakthrough '90s show and outtakes from the forgotten, unremarkable series that sprang up in its wake. We see him accept the position of CEO at the Planetary Society the space exploration advocacy group that Carl Sagan started 37 years ago. And we watch him reemerge into the public consciousness with his vibrant Twitter account, his debates with a prominent young-earth creationist, and his outspoken warnings on the reality of climate change.
Over decades, Nye has gracefully fashioned himself as science defender and journeyman, and the film takes us along for his ride. All while leading the Planetary Society's efforts to launch a spacecraft called LightSail, he contends with two outspoken opponents undoing the work of science: Joe Bastardi, a weight-lifting, Trump-supporting meteorologist known for denying climate change, and Ken Ham, the Christian fundamentalist ideologue who identifies science as a false religion.
Nye and Ham debated each other on the topic of evolution in 2014 before a worldwide internet audience, crossing paths again a short time later when Ham opened a life-size reconstruction of Noah's ark in Kentucky. The film follows Nye as he walks through the installation, which is replete with museum-style exhibits showing man and dinosaur living side by side.
A young girl touring the ark tells Nye that she believes Ham's displays, not Nye's science. Visibly shaken, Nye replies, "Well, I hope you pay attention to the world. And I really encourage you to go to college."
"We were getting pushback from people we were talking to while making the film," co-director Alvarado tells Inverse. "'Why are you engaging creationists? Why engage climate change deniers? You're just giving them a platform.' We marched ahead anyway, and it's interesting to release the film in Trump America, where those people run the show. They aren't the marginal people we once thought they were. Their understanding of science is more important than we ever thought."
For a film especially concerned with scientific facts and objective reality, there are a lot of feelings on display here. Nye speaks candidly about his lack of Ph.D., his family's history with a genetic condition called ataxia, and even his decision to avoid getting married and having children. Present-day Nye's slapstick sensibilities are still strong, but they've evolved over time.
"Scientists are not the most emotive people," co-director Sussberg tells Inverse. "Bill's different because he's so expressive, and he has a deep inner life that's a lot larger than 'science communicator guy.'"
"Bill's an actor, but he's an actor portraying himself," adds Alvarado. "It was surprising to find a very open guy underneath that, letting us see things the cameras usually don't see."
Nick Pampenella, the film's producer and Nye's agent, says the theme of the film is about passing strong science on to the next generation. "Bill respects the people that influenced him in his life; the legacy of science is not lost on him. It's this generation's turn to pick up the torch, but Bill's worthy of holding it for now. Carl Sagan's freaking desk is in his office."
As the filmmakers begin outreach to get the completed movie in theaters and classrooms, Nye's work continues just as it always has. His new show, Bill Nye Saves the World, hits Netflix on April 21. Then, he will serve as honorary co-chair of the March for Science, in the nation's capital on April 22, to demonstrate against political meddling in the scientific process.
Though he remains tenacious and tireless in the name of science, Nye's touchy-feely inner life was somewhat on display when the film came to an end at SXSW; he took to the stage for a post-screening Q&A, speaking extemporaneously about his influences, his ambitions, and his upcoming projects.
Slightly choked up, he revealed that he liked the movie.
The film is currently seeking distribution and will be playing the festival circuit as well. No other festival announcements confirmed yet, but in the works.
Says Alvarado: "We want a lot of eyeballs, that's really important to us. We think people will enjoy the movie, learn from it, think about it, and have conversations with their family members and friends. We want it to speak to the world in that way. We also know that finding a buyer who understands the value of the film will be very good, so we can get this thing into theaters."
And here's Sussberg: "The reason we know Bill Nye today is because science classes forced kids to watch his shows instead of crappy after-school specials. It's important to us that we pay it forward and get this documentary into classrooms as well, and we'll be doing a robust school outreach for that."