Bill Nye Will Save the World With Sex and Fist Bumps
'Bill Nye Saves the World' will hit Netflix on April 21, Earth Day Eve.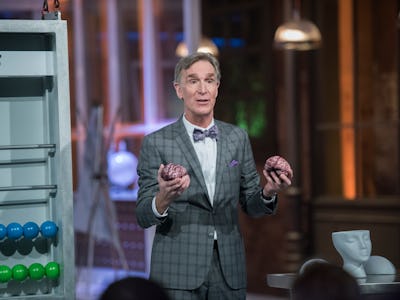 Netflix
Bill Nye isn't just the science guy anymore. With his new Netflix talk show, he'll attempt to be the anti-anti-science guy in this day and age when real scientific reason is being described as "up for debate."
Bill Nye Saves the World has a meaningful date for its debut: April 21, otherwise known as the day before Earth Day, and this year, the March for Science in Washington, D.C.
The 13-episode first season has the bow-tied host debunking anti-scientific claims and tackling topics like sex, global warming, alternative medicine, and more. The show seems to follow in the footsteps of his landmark PBS series Bill Nye the Science Guy, which ran from 1993-1998, but perhaps for an audience of adults who grew up watching Nye. It'll attempt to show audiences Nye's approachable methods to complicated scientific topics, but Bill Nye Saves the World looks to be a bit more confrontational. According to the official synopsis provided by Netflix, Nye's pop culture-friendly viewpoint is meant to refute bogus claims "espoused by politicians, religious leaders or titans of industry."
It doesn't specifically mention Donald Trump, but we're definitely talking about Trump here.
Nye isn't going at it alone either. He enlisted the help of celebrity guests and co-hosts like Karlie Kloss, Zach Braff, Donald Faison, and Rachel Bloom to help out. Also, there will be a lot of fist bumps, fire walking, and a Bill Nye bobblehead doll.
The March for Science's public call for and gathering to show support of the work being done in the scientific community to improve human life is a similar attempt to battle the anti-science rhetoric currently clouding the American political community.
While Bill Nye Saves the World is meant to be a serious look at scientific truths, it also looks like a whole lot of fun. Mark your calendars for some seriously awesome streaming science.