Bill Nye Will Reboot a Huge Franchise Called Science in 2017
The Science Guy's return seems a lot more urgent in the wake of Trump's election.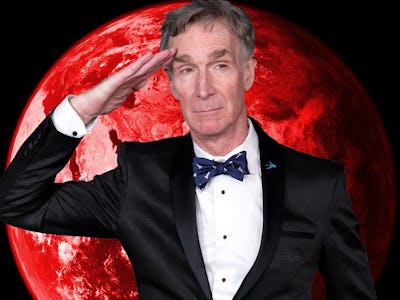 Getty Images/NASA
History is full of iconic, distinguished men and women of science, but there's only one Science Guy. Bill Nye was a smart, quirky, and memorable science ambassador for a generation of PBS-watching millennials, and fans were delighted to learn that his signature bowtie would be coming back to screens in 2017 for a new Netflix show, Bill Nye Saves the World. Of course, that was before Donald Trump — about as anti-science as a politician can get — won the presidency. Now, with truth and the fate of the planet seemingly on the line, the title of Nye's show seems a little more urgent.
Netflix announced Nye's show in late August, before Trump's stunning upset in the election, but from what we know about it, Netflix seems to be eerily prescient. "Each episode will tackle a topic from a scientific point of view, dispelling myths, and refuting anti-scientific claims that may be espoused by politicians, religious leaders or titans of industry," a Netflix press release explains. Nye has said that he wants the new show to be entertaining, sure, but he really wants to educate and, if possible, change minds.
"We'll discuss the complex scientific issues facing us today, with episodes on vaccinations, genetically modified foods and climate change," Nye said in a statement. "With the right science and good writing, we'll do our best to enlighten and entertain our audience. And, perhaps we'll change the world a little."
Nye might be the right guy to do it. He shares a lot in common with Neil deGrasse Tyson, but where Tyson sometimes comes off as a smug scold, Nye is more affable — and he's no less passionate about his subjects. Nye made science fun in the '90s, and he's stayed busy since then. His occasional appearances on CNN showed that he still had the spark and that he could get righteously mad without being standoffish. Watching Nye wave around a prop while giving a quippy lecture, you get the sense that he views entertainment as means to teach and not just an end in itself.
He seems to earnestly want to make a difference, and Bille Nye Saves the World could be an excellent vehicle for the beloved scientist to try to make an impact. The dark, lingering question, though, is if that's even possible in 2017.
Nobody, not even Nye or Netflix executives, can seriously expect that his streaming show will be the one thing that starts a scientific revolution. Pop culture is powerful, but rarely are singular works that effective. Nye might, however, make some people think differently than they did before, maybe not enough to change their minds on the spot but perhaps enough to open them up to the possibility that they're wrong. That's not nothing — it's a slow-burn, but it can shape a generation if done right with the right people.
Or maybe he'll just be preaching to the choir. Nye's challenge if he really wants to "save the world" isn't teaching people about science — it's reaching people who don't want to learn. If 2016 taught us anything, it's the power of bubbles — we tend to only consume media that aligns with our understanding of facts. And we've been aligned with Bill since we were literally children. The nostalgia factor is high, and nothing could possibly be more comforting than getting a pat on the back from the man who's been doing so our entire lives.
The worst-case scenario would be having liberal slacktivists comment "This!" while sharing a Netflix social post and then congratulating themselves for having done their part. Meanwhile, folks who scoff at global warming when it snows in January will watch Fuller House instead. (Let's not even touch the fact that the actual policymakers with the most power to really save the world probably aren't the show's target audience).
For Nye to make any headway in saving the world, he's going to have to expand his audience, or get people to stop binge-watching Netflix and start doing some actionable volunteering and activism. Both of those things are tricky. Maybe he'll be able to harness '90s nostalgia and his engaging method of conveying the facts to bring lapsed junior scientists back into the fold. Or perhaps he'll take the Samantha Bee and John Oliver route and promote action (though it's unclear how much impact Bee and Oliver actually make outside of YouTube views as evidenced by the president-elect that sits before Trump's name).
Nye's Netflix show is going to be good TV — I feel pretty confident predicting that. But hopefully he's aware of the Sisyphean task he invited with that name, Bill Nye Saves the World. Nye, with his charisma, intelligence, and passion is a good champion — the quest he's decided to take on is just a difficult one and probably the most important cause of our lifetimes. Nye will, I'm sure, do everything he can, but he can't save the world on his own — that's on all of us.