Bill Nye Just Announced the 5 Sidekicks for His Netflix Show
The coder (and supermodel) will help Bill and the team save the world!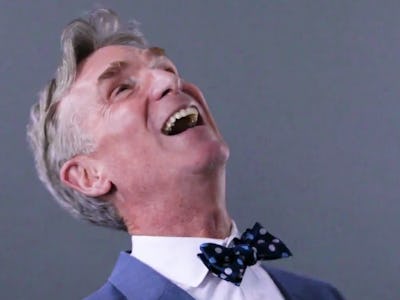 NETFLIX
For those of us who grew up learning about weather, space, and all things science from Bill Nye, his new Netflix talkshow, Bill Nye Saves the World, is a dream come true. And to add to the excitement, Netflix released a trailer introducing five of Nye's "professional" correspondents, one of whom is coding booster and supermodel and SpaceX fan Karlie Kloss.
Netflix shared a short trailer on Thursday with the caption "You can't save the world without some awesome sidekicks." Nye's team of impressively diverse "sidekicks" so far includes MIT-trained engineer Emily Calandrelli, Venezuelan comedian Joanna Hausmann, the "very qualified" comedian Nazeem Hussain, who "studied science about 10 years ago," the wonderful Kloss, and science communicator and TV presenter Derek Muller.
This group will act as Nye's corresponding experts as he sits down with guests to investigate the relationship science has with politics, pop culture, and society as a whole.
While, of course, tying the perfect bowtie.
The new Netflix project is the perfect platform for Nye, who speaks openly and frequently about science's role in politics. And Netflix's choice to include powerful people in the world of pop culture such as Kloss will certainly bring in a younger, wider audience — the ones who didn't grow up with the Science Guy.
Look forward to more science, more crazy laughter, and more bowties when Bill Nye Saves the World arrives on Netflix in Spring 2017.