Space Fashion Is Already Weaving Technology and Designer Together
If the future involves low-gravity environments, we've got to be ready to look fly.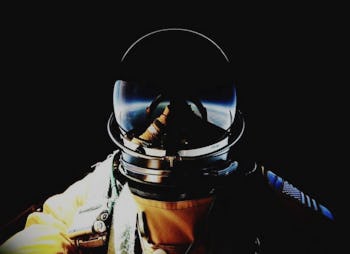 Christopher Michel/Flickr
If next generation's pioneers plan to leave Earth for the redder pastures of Mars, they're going to have to have something to wear. And though we don't yet know what space fashion will look like, we do know that future outfits will have to do more than look fresh. Clothes will become tools for adaptation defined as much by technologies as silhouettes. We know this because designers are already creating smart clothing and beginning to push the boundaries of utility. We know this because life in space won't be easy.
Private companies are already latching onto fashion trends that seem to move in the direction of the nascent space apparel market. And space companies seem prepared to meet them halfway. Virgin Galactic conscripted Adidas and Japanese designers Yohi Yamamoto to partner up and design a new kind of space suit that will let tourists withstand spaceflight while looking fly. And SpaceX has pulled in model Karlie Kloss to show off duds being created by legendary costume designer Jose Fernandez.
Even NASA is revamping their spacesuits to allow astronauts to move around on the surface of other worlds more safely and comfortably. In case it wasn't already obvious, this new design is in line with the agency's current focus to send astronauts to Mars — and allow them to live and work in a permanent outpost on the red planet.
This is significant because settlers will need specialized clothing to facilitate their day-to-day activities on other planets. The notion of a good-for-all-season uniform ceases to make sense when behaviors become too varied. There will need to be varieties of clothes outfitted with varieties of technologies. We can reasonably expect different types of devices to run these different garments as closed systems. A good example of the hardware required to accomplish this actually debuted at New York Fashion Week this year. Intel's Curie Module incorporates bluetooth, a gyroscope, motion sensors, batteries, and 80 kilobytes of RAM. For the moment, it makes dresses light up. It could do much more.
But space clothes won't only be practical. Clothes never are. This is why — in part anyway — the European Space Agency and the Science Museum in London sponsored a project called "Couture in Orbit," which tasked students from five fashion schools around the continent with the creation of cutting edge couture "for the space age." The work culminated in a fashion show at the Science Museum last month in which the schools — each assigned a particular theme and an ESA astronaut — showed off their work. ESA space-certified textiles and sensors were arranged in a variety of unlikely ways.
Students at the Fashion Akademiet Copenhagen used sensors from Leap Technology to create "artificial muscles" — basically, electroactive polymers that can stretch across the skin — to collect data related to movement, blood flow, and other biometrics. Its similar to a stretch sensor that was already used by Italian astronaut Samantha Cristoforetti on her neck as part of the 'Drain Brain' experiment. Others at Politecnico di Milano came up with outfits made of conductive material that could double as antennae which GPS instruments could use to track individuals.
Other designs could play a role in modern clothing here on the surface. Students from ESMOD fashion school in Paris installed tracker sensors designed by Johan Sports, which specializes in athletic wear that can measure distance traveled, speed, acceleration, orientation, and other kinds of analytics relevant to sports performance. On the surface of the moon or Mars, those sensors could help let crew on Earth know what the health status of their astronauts millions of miles away looks like. Those from Ravensbourne fashion school in London used other kinds of textiles to create fabrics that were extra absorbent and resistant to moisture or toxins in the air.
Of course, all of these designs are simply prototypes. It's unclear exactly what space fashion really will look like when humans finally get off the ground and begin life beyond Earth in more permanent ways. It's easy to imagine that we'll start with jumpsuits, but there's plenty of reason to think we'll make a big statement when we finally arrive on another planet.