Intel Went Hard at New York Fashion Week With the Curie Module
The tech company hopes its little device will make a huge splash in the world of smart fashion.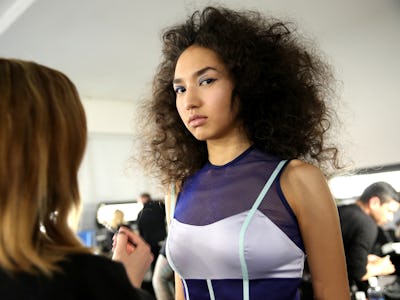 Getty Images
If you want to give your stylish duds an electronic brain, you've got to make the tech small enough to hide, but smart enough to actually do something. That's where Intel's Curie Module comes in. The button-sized device, which was just short of ubiquitous at New York Fashion Week, is the first bit of high style high tech to make much headway on the runway.
Intel announced details about the Curie in August 2015, which compresses a fairly impressive array of hardware — Bluetooth, gyroscope, motion sensors, battery charging, and 80 kb of static RAM — to the size of a ladybug. At the time of the announcement, Intel made vague paeans to the device's health and fitness future. Those uses have not been the focus since then. Light-up dresses have been the focus.
Intel says the "reactive hand wraps" at the recent Chromat show sparkle with "beautiful electro-luminescent details" thanks to the Curie. As if jellyfish were too passé, Intel also recently unveiled an "intelligent dress" that spews robot butterflies. Frankly, it's hard to watch this video and not conclude the faux butterflies must be CGI:
Strange as these clothes may seem, what's born on the catwalk can, in fact, ripple out to the real world (see: the bikini or Christian Dior's pencil skirt). Moreover, Intel views the runway as a proof of concept more than anything else. As Fortune noted during Fall Fashion Week, the tech company wants to prove its ability to address both form and function, avoiding the Diane von Furstenberg Google Glass flop.
Smart clothes have so far been consigned to the gym and Silicon Valley, but by normalizing the idea — as much as fashion week can — they'll end up in our closets.