Bill Nye Documentary Slated for Winter 2017 Debut
The Science Guy talked with fans at the Tribeca Film Festival.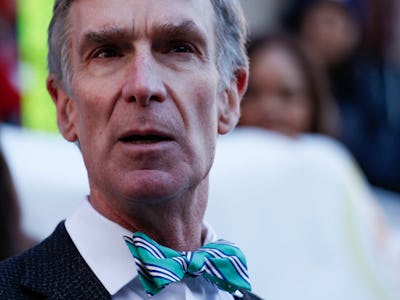 Kena Betancur/Getty Images
Last year, filmmakers David Alvarado and Jason Sussberg successfully raised what was, at the time, the most successful Kickstarter campaign for a documentary ever, and after years of following their subject, Bill Nye "The Science Guy," the filmmakers are coming into the editing stages and preparing for a 2017 winter film fest release.
A 15 minute clip from the upcoming film was shown to a room of roughly 50 people at the Tribeca Film Festival and the Science Guy himself Skyped in to display his cookyness and prove the documentarians' main thesis about Bill — "What you see is what you get."
"Is my story that interesting?" Nye said, which was met with applause from the audience. "I'm trying to change the world and if this film helps move that forward then I'll be so grateful."
The film is still very much in its early stages, as the creators made several jokes about how busy their diligent editor has to work right now, but the 15 minutes they showed gave a good insight. The style seems to capture both the wackyness of the show and its star personality, as well as take seriously and visually elevate what Nye calls the greatest idea mankind ever had — science.
Alvarado stressed that it's still a work in progress. He discussed the possibility of making the original show's narrator, Pat Cashman, play a larger role in the film by mimicking his breaking of the fourth wall role from the show. The creators also discussed how the film will combine biographical elements of his life with other broader themes such as his booming popularity online so many years after the show ended and his place amongst other well-known scientists including Neil DeGrasse Tyson and Carl Sagan. Of course, those stylistic choices are still yet to be determined.
Bill Nye's charm was always the ability to distill complicated subjects into fun, easily digestible clips. That's why his series is still popular amongst grown millennials on Netflix so many years later. It looks like the creators are looking to capture that same magic with this film.