Car Jobs Will Be Lost to Robots, Not the EPA Rules Trump Hates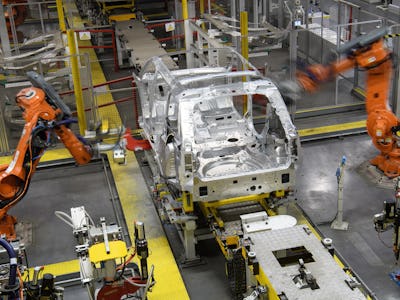 Getty Images / Leon Neal
President Donald Trump announced a return of the midterm review on Wednesday, which will reconsider the effect of the Obama administration's rules around auto emissions.
The Alliance of Automobile Manufacturers, a collective of automakers that represents 77 percent of all car and light truck sales in the country, has been pushing the Environmental Protection Agency to reconsider rules put in place before Obama left office. The review, Trump said, will "ensure that any regulations we have protect and defend your jobs," but the changes coming from robot automation are likely to have a bigger impact than fuel economy rules.
"We're going to work on the CAFE standards, so you can make cars in America again," Trump told an audience at the American Center for Mobility. The CAFE standards state that automakers need to target a corporate average fuel economy of 54.5 miles per gallon by the year 2025. Originally, the decision to lock in the target was set to take place in April 2018, but at the last minute the Obama administration reversed its decision and put the target in place ahead of the review.
The alliance sent a letter last month to the agency's new administrator, Scott Pruitt, where it described the order as "riddled with indefensible assumptions, inadequate analysis and a failure to engage with contrary evidence."
But Trump's focus on fuel economy rules as a way of protecting jobs is possibly misguided. In 2011, the National Research Council of the National Academy of Sciences found that automakers would have to spend $3,000 per midsize car to meet the 2025 rules. By 2015, the same group found that figure had dropped to as low as $1,200.
The rules are turning out to be cheaper than expected. That's because new technologies like lighter materials are improving efficiency, while the aggressive push towards electric vehicles will work as an added bonus. Plus, a marketplace shift towards larger vehicles, governed by less stringent rules, makes meeting the 2025 goal even more likely.
If Trump wants to protect auto industry jobs, he should look at robot automation instead. The Center for Business and Economic Research at Ball State University found that between 2000 and 2010, 5.6 million manufacturing jobs were lost, and 85 percent of losses were due to technological advancements. Currently, robots perform about 10 percent of manufacturing jobs, but the BCG said this could rise to 25 percent by 2025, the target date for the fuel economy restrictions.
There is the possibility that these changes won't result in as many job losses as feared. Some automation experts believe that future robots will still need a workforce, just one with a new skillset.
"What we see is that where the use of robots are on the rise, unemployment is falling," Jeff Burnstein, president of A3 that holds a robot automation trade show, told Inverse in an interview in January.
Whether jobs will leave or not, the evidence that fuel economy rules will be what makes jobs disappear is rather murky.