Car Makers Want Trump's EPA to Overturn Obama-Era Emission Rules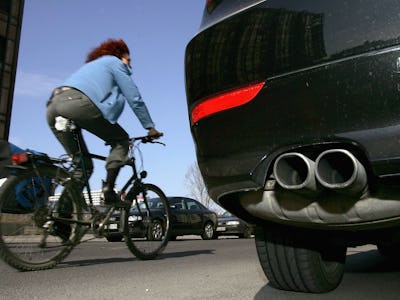 Getty Images / Sean Gallup
The Alliance of Automobile Manufacturers is on the warpath. The group, which represents BMW, Ford, Volkswagen, General Motors, and other automakers, went the attack against an Obama-era decision to lock in vehicle emission rules, publicly asking Donald Trump's newly-appointed head of the Environmental Protection Agency Scott Pruitt to overturn the decision. In January, just before Obama left office, the EPA declared vehicle makers will need to target a corporate average fuel economy of 54.5 miles per gallon by the year 2025, something car makers believe is unrealistic. The decision was not meant to be taken until April 2018, but was fast-tracked to January by former EPA chief Gina McCarthy before Trump took office.
On Tuesday, Mitch Bainwol, CEO of the AAM, said in a letter to Trump's EPA chief Scott Pruitt that Obama's mandate was "the product of egregious procedural and substantive defects" and is "riddled with indefensible assumptions, inadequate analysis and a failure to engage with contrary evidence."
With the Obama administration out, the mood surrounding the agency's activities has shifted somewhat. The new head of the agency, Scott Pruitt, is lukewarm to the idea that humans are the cause of climate change. Reports from Reuters suggest that Trump is gearing up to sign executive orders that undo some of the previous administration's work on this front.
The regulation in question focuses on the average fuel economy, set in miles per gallon, of a manufacturer's range of cars. The average is weighted based on sales, so if a car maker sells cars lower than the limit, it needs to ensure it sells enough higher-efficiency cars to compensate.
The decision to target 54.5 miles per gallon by 2025 was not without controversy. Opponents believe the decision could raise car prices by up to $10,000 and cause the auto industry to have to cut up to one million jobs, but the decision's supporters claim that car makers usually overestimate the effect of average fuel economy rules.
Of course, by the time 2025 comes around, the industry will look very different. Many car makers are offering up electric versions of their vehicles, and as that will factor into the corporate average, there's less pressure to develop traditional cars with more efficient engines.
Unfortunately, there's good reason to believe the agency may consider rolling back the regulation. The AAM is a big deal in the automotive world: together, its members account for 77 percent of all car and light truck sales in the United States. Pruitt also said during his congressional hearings that he wanted to look at how the Obama administration set the regulation, so the matter is already on his mind.