Patrick Stewart Is Game to Play Professor X on 'Legion'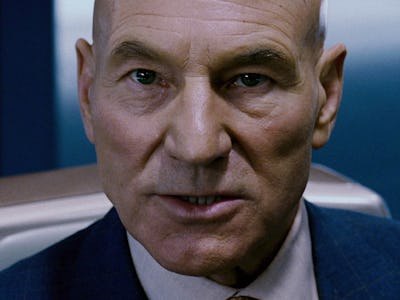 20th Century Fox
Patrick Stewart has played the telepathic Marvel Comics mutant Charles Xavier in seven X-Men films, but he claims that Logan is his final farewell … sometimes. Even though the critically acclaimed Wolverine movie brought his nearly two-decade stint playing Professor X to an emotional close, Stewart keeps teasing at further Professor X appearances, like, for instance, a cameo on the TV show Legion.
"There will never be a more perfect time to say 'thank you' and 'goodbye' to this franchise," Stewart said of watching the finale of Logan at the film's premiere alongside Hugh Jackman. And yet, Stewart keeps teasing at Professor X appearances in other Marvel-based films and TV shows.
Stewart appeared on The Late Late Show alongside Legion star Dan Stevens and former Harry Potter actor Rupert Grint. Host James Corden couldn't wait to ask about further roles for Stewart as Charles Xavier.
There have been whispers of Stewart appearing as Charles in the Deadpool sequel alongside Ryan Reynolds's Wade Wilson and several other popular Marvel anti-heroes — but there's zero proof that anything is in the works. In that same category is Stevens — who plays the main character, David Haller, in Legion — offering up a role to Stewart in FX's psychedelic mutant bonanza.
"Absolutely!" Stewart exclaimed when Stevens said he had a job offer for him to appear on Legion, much to the excitement of the gathered crowd.
In the original comics, David Haller is Charles Xavier's estranged son, so a Professor X Legion appearance wouldn't be unprecedented. It's just very, very unlikely, especially since Legion appears to have created new characters to stand in for classic X-Men like Professor X.
Logan — most likely Patrick Stewart's final stint as Professor X — is now in theaters.