Patrick Stewart Says Pay Attention to the Border in 'Logan'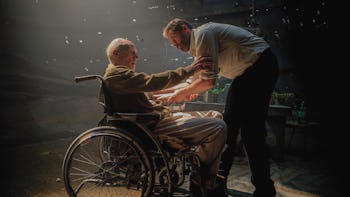 The Hollywood Reporter
Logan is poised to absolutely destroy the box office this weekend, which means Americans from all over the political spectrum will watch the bloody, brutal story of two men helping a group of Mexican-American children over the border. Patrick Stewart has told the press that conservatives who support President Donald Trump's border wall and executive orders don't have the luxury of ignoring that irony while watching Fox's newest superhero movie. "We now have an administration here in D.C.," Stewart says, "who are intent on pursuing a policy which will not just slam the door on refugees and others who wish to live in the United States, but we're building walls to keep them out."
Logan isn't an overtly political movie by any stretch, but Stewart claims that empathy has always been at the heart of the X-Men franchise. "There is one dominant objective for all the good characters in the movie," he tells The Hollywood Reporter. "They want to reach a border, to cross it and to be safe on the other side. We are living in a world where thousands of people are attempting to do just that. And there are a lot of people who are bent on not just stopping them, but destroying them." Stewart refers, of course, to the mutant kids born in Transgien's lab, to young Mexican mothers who were artificially inseminated with mutant sperm. In Logan, these kids believe they'll be safe from the surgeons who created them if they can only make it past the border between North Dakota and Canada.
Turning his attention to the real world again, Stewart says, "We are isolating ourselves against [immigrants], but in doing so, against the rest of the world and the otherness of people, whether it's color of skin, race, ethnicity, religion, sexual makeup is now considered 'other' and 'suspicious.'" When the X-Men films began in 2000, most socially conscious critics connected the "coming out" storylines featured in the movies to the American gay rights movement. As Stewart says, the real issues at hand in America have caught up to Marvel's imagined world of superpowered pariah mutants.
It remains to be seen whether Logan's unsubtle political commentary angers right-wing moviegoers. The film hits theaters nationwide March 3.