Movie Theaters Are Very Worried You'll Bring Your Kids to See 'Logan'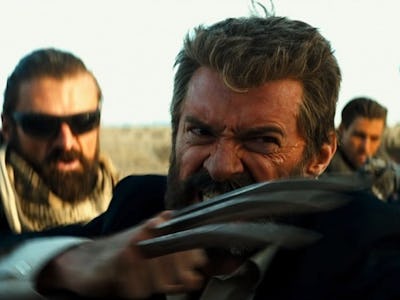 The Pulse
Hugh Jackman's last go as the clawed X-Men hero, Logan, is a brutally violent send-off for the actor. It is, however, still a superhero movie, and kids love superheroes. Perhaps that's why Alamo Drafthouse Cinema felt the need to issue a PSA to parents letting them know that this is a violent, R-rated movie.
The highbrow company — perhaps best known for its harsh stance on talking and cell phone use during screenings — tweeted out a PSA poster on February 28, and it warns:
Attention parents: important information about Logan. Please note that Logan isn't your typical superhero movie. This film is rated R for extreme and brutal violence. Given the disturbing content, we do not recommend that children see Logan.
This movie sure as hell is not for kids, despite the inclusion of Logan's 12-year-old sidekick, Laura (Dafne Keen). You might remember that last fall, director James Mangold said, "Basically, if you're on the make for a hyper choreographed, gravity defying, city-block destroying CG fuckathon, this aint your movie." There are no colorful Avengers here, just old mutants and a ferocious small child that is prone to launching herself off of her sort-of dad's back to murder people.
It would appear that James Mangold made good on the promise that "people will get hurt or killed when shit falls on them" in this movie, especially given the shot from a previous red-band trailer in which Logan stabs his claws right through a guy's head.
Cap would be beside himself with all of the cussing and head stabbing bound to happen when Logan hits theaters — Alamo Drafthouse Cinemas included — on March 3.