Even Doctor Doom Wants to Join Thanos in the MCU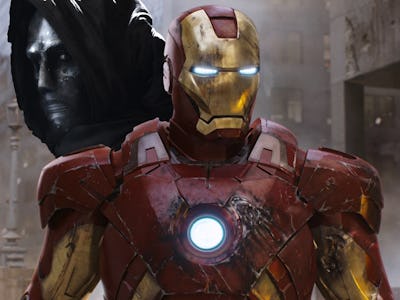 20th Century Fox, Marvel Studios
The Fantastic Four isn't part of the Marvel Cinematic Universe, but don't count Doctor Doom out just yet. This week, Fantastic Four star Toby Kebbell said he'd reprise his Doctor Doom if and only if it was for a Marvel/Disney movie, meaning, Doom would have to be in the MCU.
While promoting Kong: Skull Island, Kebbell talked candidly about 2015's Fantastic Four and his thoughts on his character, the infamous Doctor Doom. "Doom is an incredible bad guy," he said to HeyUGuys. "They just keep trying to force him into the Fantstic Four." Kebbel argues that, because Doom "smashes up Thor and Iron Man" and even "Aquaman" — he meant Namor the Submariner — he'd be a great villain for all of Marvel. "Doom is a monster. My Doom was not, so that's that."
When asked if he'd return as Doom, Kebbell didn't hesitate. "If they lend him out like a footballer, yeah. They do with Spider-Man."
Spider-Man, a Marvel IP belonging to Sony, has become short-hand for fans and actors to mentioned the possibility of major studios working out an agreement. Spider-Man appeared in 2016's Captain America: Civil War as the result of a deal Sony cut with Disney. Could similar characters also legally make there way across the copyright divide? After all, Spider-Man fought Doctor Doom consistently in the comics.
Kebbell is only the latest to say he'd reprise his character for the MCU. Hugh Jackman said that, had the option been on the table, he would have maybe played Wolverine in a movie set within the Avengers continuity. "Because I always love the idea of him within that dynamic, with the Hulk obviously, with Iron Man, but there's a lot of smarter people with MBAs who can't figure that out," he told ScreenRant before adding: "It just feels like this is the right time [to leave Wolverine]."
Kebbell's Fantastic Four co-stars like Kate Mara and Miles Teller have also expressed a desire to return to their characters. But since the film bombed even under Fox, it's unlikely that opportunity will arise under Marvel.
Still, Doctor Doom teaming up with Thanos? Who doesn't want to see that?