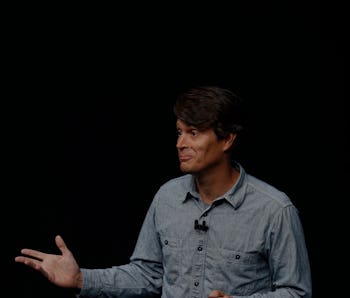 Innovation
The Secret History of 'Pokemon G0', as Told by Creator John Hanke
It all starts with a bunch of programmers at Google Maps. 
Getty Images / Stephen Lam
Pokémon GO players hike across cities and brave tall grass in an attempt to catch 'em all, but there weren't any Pokémon Masters in the beginning. No, there were just some Google Maps programmers who decided they wanted to cut down on their screen time, and in the process, fulfill the dream of the Pokémon's original creator.
Niantic CEO John Hanke revealed the "secret history" of Pokémon GO as part of his keynote speech at the Mobile World Congress in Barcelona on Tuesday. Hanke, who seemed just a little jetlagged, regaled the crowd with the story of the mobile game's origins, meteoric rise, and teases of the future.
"In terms of the secret history of Pokémon GO, I want to ask you to flash back to last summer," said Hanke, while showing a video of huge crowds of people walking through the streets of Taiwan. "You may have seen it in your city, large crowds of people, carrying their phones, what are all these people doing? Oh, they're chasing Pokémon."
"Pokémon GO was really born out of Google Maps," said Hanke. Most of the original team came out of Google Maps, including Hanke after he joined Google in 2004. They wanted to change how people interacted with games, and because they were exposed to revolutions like Google Glass and other wearable computer projects, they decided to focus on future-looking technology. "Let's use the stuff to try and build experiences that are going to try and motivate people to go outside that will be healthy, wholesome, play experiences," said Hanke.
To do so, the team set out with three goals: exploration and discovery of new places, exercise, and to get people to be social in real life. The first experiment was Ingress — the Pokémon GO augmented reality forerunner that sent people out into the world as part of two factions to battle for control over the world. The response was remarkable to the team. "We found people of all walks of life and all ages playing this game," Hanke said. "We saw the game extend to all four corners of the world — people were actually playing in Antarctica."
Even when in Beta, Ingress started growing a cult following. The team was surprised to watch the behavior of the players change, he said. "Things like — commercial airline pilots that were ferrying digital objects, flying their plane commercially but using their cell phone to move these digital goods, valuable in the game from continent to continent. It was sort of like some sort of illicit substance transfer but perfectly legal." Players were even getting tattoos of the different factions and getting very invested, said Hanke.
"We began to ask ourselves, what's motivating people to do this? It really motivated us to dig into the response people were having to getting more exercise, getting outside, being more active, and really at the core of it having an opportunity to socially go out and do something fun with other people and meet other people through the game."
It was the things they learned from Ingress — how to inspire people to go outside and walk, how to host events, how to create a social gaming community in the real world, which places are cool — that formed the inspiration for Pokémon GO, says Hanke. Of course, none of that prepared Hanke for _Pokémon GO_'s overnight explosion.
After launch, the number of players climbed past both the expected traffic and the predicted maximum traffic almost immediately. They only got through release because Google Cloud helped give the game more server space — and even then getting kicked off the servers was a common player experience in the weeks surrounding the launch. "It was probably the worst job of forecasting in my entire career," says Hanke. "We blew through our quotas within a day or two, and it just spiraled seemingly out of control after that."
Libraries and businesses immediately took to the game as a way to increase foot traffic. This interaction between physical locations and the augmented reality of the game is a huge part of the future of Pokémon GO.
"I think Pokémon GO is kind of unique in being a game that was really built to be native to this world," said Hanke. He clarified to say that the game relies on a lot of modern cell phone and data technology to power the augmented reality, but that the traffic generated by the game also changes what happens in the real world. Niantic has allowed businesses to sponsor locations, which draws players into places like Starbucks or Sprint stores. These businesses have started to carry things like Pokémon GO branded chargers or decorate their store to look like the game.
These sorts of partnerships are likely to continue to expand as Pokémon GO continues. Hanke also said that Niantic is looking to partner with companies to improve location devices and augmented technology which would make gameplay even more immersive. He also teased that there would be three major updates to the game in 2017.