'Pokemon Go' Issues Are Ruining Parties
Gotta catch 'em all ... as soon as the servers are back.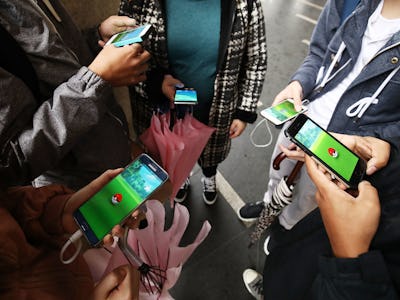 Getty Images
Wednesday's Pokémon Go server issues put a damper on a number of themed social events. Party-goers hoping to capture some Caterpies or battle some Bulbasaurs were left high and dry, with only actual human contact to keep themselves entertained.
"Over 1000 people showed up for the Pokemon Go Event and… Servers are down 🙄," said Reddit user kidbranz in a post on the Pokémon Go subreddit. The post included a picture of a game meetup in a park, with many people standing around looking bored.
"Yep, we had a PoGo bar crawl here today," said Reddit user jonker5101, from Allentown in Pennsylvania. "The creators coordinated with all of the local bars and restaurants to have special drinks made, food discounts, special accommodations, and lures set up at every stop. Hundreds of people showed and then promptly left when they realized the servers were down. A ton of time, effort, and money went to waste."
In the case of the Allentown bar crawl, it appears the servers came back online later in the night, with many thanking the organizers on their Facebook event page. At that point, though, the damage was already done. "I don't know which one was harder — waiting in virtual line for the server and then data to work for the game, or waiting in line for a ride in Disney world," said Zach Goodrich on the event page.
Redditors further down the thread expressed fears that Pokémon Go events planned for the weekend may be disrupted if developer Niantic doesn't solve the server issues. Pokémon Go is expanding into new countries and territories at a rapid pace, but if connection problems continue to plague the game, it may put people off any future attempts at theming a party around Nintendo's creation.