How to Send Encrypted Nudes, a Guide for the Discerning Lover
Encrypted photo sharing has never been easier.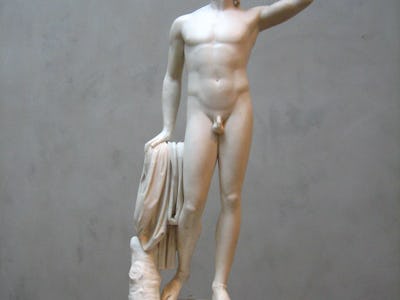 Flickr / s0crates82
Right off the bat, sending nudes is always going to be a risky (but potentially delightful) activity. You can't eliminate all the privacy risks, and someone can always find a way to save the nudes you send, but there are tricks to enjoy nude-sharing with your significant other, or anybody for that matter, as securely as possible.
The good news is that there are now a few really good apps that let you send encrypted attachments for free, notably Viber and WhatsApp. The new WhatsApp status feature, announced in a company blog post, is a particularly good way to send nudes securely. Even with the most secure encryption, your phone itself is a weak link, so not only do you have to send your nudes safely, you and the recipient other have to take and store them securely as well. The main takeaways – use messaging apps that use end-to-end encryption and don't save them in the cloud, or (best practice) really at all.
The main risk you can't control when sending nudes is that no matter how good your encryption, if your phone itself is hacked, there's not much you can do. "A hacker can naturally see photos on the device where the intended recipient can see them, if that device is hacked," Karsten Nohl, founder of Security Research Labs, a hacking research firm in Berlin told Inverse.
So every time you send nudes, you're taking a risk – most people aren't going to have their phones directly hacked, but things like cloud storage and data carriers. So the best things you can do are avoid the cloud and use end-to-end encryption unless you invest in a phone designed for security.
WhatsApp launched end-to-end encryption in April 2016, so when you send a WhatsApp message, it's automatically locked with unique keys, and then only unlocked when your recipient reads it. And although it used to be text-only, WhatsApp now lets you send encrypted photos and videos. The only thing to remember about WhatsApp is that it is now part of Facebook, so check to make sure that WhatsApp isn't sending info to Facebook for advertisements. You can just go into the account section in settings and turn off "share my account info," and you're good.
The new "status" feature allows users to send encrypted photo and video status updates that disappear after 24 hours. You can add emojis, draw, add captions, send GIFs — it's basically an encrypted Snapchat now, has some attractive features for sending nudes. You can choose to share things only with a specific contact in the "Status Privacy" feature, which only effects posts you make after turning that on. Nothing is saved in your photo library and the whole status system is encrypted. The main downside is that you have to remember to set your status to only be seen by a specific contact.
If you're not using the status feature, but are using WhatsApp messaging to send nudes, there are two things to think about. First, make sure that you are not saving your photos in the regular photo library on your phone. That library is only as secure as your phone, and if it's backing up to the cloud, it's not secure. The second thing is you can set WhatsApp to let you know if the key of the person you're sharing with changes. Unless your significant other has gotten a new phone, a changed key notice is a signal that it's not safe to send nudes until you figure out if you're being spied on.
Viber has recently implemented end-to-end encryption as the default setting as well, and will also let you know if your line has been changed. If you don't have Whatsapp, it's a good option for nude-sending. However, if you're an Apple user, attaching images through the iOS sharing feature isn't secure. Viber is working on that, and there is a Viber image feature – which is probably what you should use even when the iOS feature becomes encrypted. Although iMessage is end-to-end encrypted iCloud is not, which ruins the whole point of sending encrypted nudes.
There are a few other messaging apps that feature end-to-end encryption, but they are less common – namely Signal and Cyber Dust. You could also use Line or Telegram, but both you and your significant other have to have turned on the secret messaging feature.
In the end, no matter what app you use to send your nudes, if you're worried about doing it securely, talk with your significant other about best practices. End-to-end encryption will get you pretty far, but even then it's never going to be 100 percent safe. And saving photos on your phone or taking screenshots will ruin all the work of even the best encryption.