Viber Goes Fully Encrypted in Name of Privacy -- or WhatsApp, iMessage Competition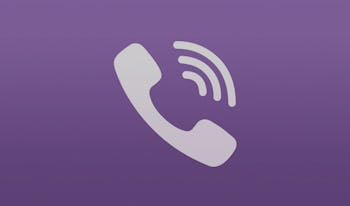 Viber
Messaging and voice app Viber announced on Tuesday that it is adding end-to-end encryption to its platform of 711 million users. The move follows WhatsApp's decision to protect the communications of its more than a billion users with end-to-end encryption earlier this month. As an indirect response to the FBI's efforts to force Apple to unlock an encrypted iPhone, the wave of new encryption signals a turning point in the future of digital privacy.
The new encryption means that Viber will not be able to access the content of user messages or conversations. Not only does this level of security make breaking into the app almost impossible, it also means that Viber may not be able to provide law enforcement with access to the communications of an alleged criminal.
Viber plans to roll out a host of new features in the coming weeks to provide users with a clear picture of how secure their communications are. The app will, à la Gmail, offer color-coded indicators beside each chat to clarify whether you are communicating with a verified or trusted user. Grey means the chat is fully encrypted. Green requests additional verification, and Red is a warning that the user you are talking to has failed authentication or the app has reason to believe someone is trying to hack in from a third-party platform.
The company is also encrypting conversation via its new "hide" feature, which allows a user to lock any chat from users on their phone behind a four-digit pin. This means that exchanges, beyond being transmitted in encryption, won't be accessible from even a front-facing scenario without inputting a passcode. Like Apple and the iPhone, Viber itself won't have access to users' passcodes, and therefore won't be able to hand them over to, say, the FBI.
The security itself resembles WhatsApp's recent upgrade, so the issue is not whether the company is setting any new precedents. As Matthew Green, a professor of cryptography at Johns Hopkins University, notes, the wave of platforms adding end-to-end encryption represents a turning point in the relationship between law enforcement and big tech companies.
What's interesting here is that Green is not arguing that encryption is entirely necessary, but rather that the arena of digital messaging is so competitive that once a few major apps go for privacy upgrades, the rest tend to follow. And considering the FBI's failure to force Apple to hack its iPhone, either in the case of the San Bernardino terrorists or the New York drug dealers, law enforcement has hardly gained any kind of legal momentum. But still, the public relations nightmare of the fight has undoubtedly led to the new security features.
The new wave of encryption is setting up tech and law enforcement for a more significant battle royale-type of confrontation over the role of encryption in modern technology. And despite popular claims to the contrary, the legal system does have significant options to poke holes in the security of encryption.
These big technology companies may just be positioning themselves to make certain concessions to law enforcement without sacrificing the principle of encryption. (In fact, a recent Motherboard report indicates BlackBerry may have provided police with an encryption key to its messenger.) Certainly widespread adoption of end-to-end encryption makes it harder for legislators and judges to consider the merits of nixing the feature altogether, though all of these companies must understand that some level of compliance with law enforcement is necessary in a nation of laws.
The recent expansion of end-to-end encryption following the FBI-Apple battle may seem like the first stand tech is taking against an encroaching governmental superstructure. But in reality, WhatsApp and Viber have been developing these features since at least 2013, when Edward Snowden leaked the most significant batch of documents detailing government hacking and eavesdropping. So the stand may be a public relations response, but it reflects a growing public and corporate anxiety about government overreach that isn't going away. In fact, as Viber shows, it is only growing, and soon it will be impossible to ignore.