NASA's Being Cagey About Why a Crewed Lunar Mission in 2019 is a Good Idea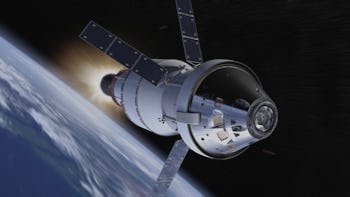 NASA
NASA's Exploration Mission 1 (EM-1) may send a crew to orbit the moon by 2019, although it is unclear why NASA is now making these considerations, and whether it's due to pressure from President Donald Trump's administration.
At a teleconference on Friday, William Gerstenmaier, associate administrator of NASA's Human Explorations and Operations Mission Directorate, and William Hill, deputy associate administrator for Exploration Systems Development, gave more details about a new feasibility study for turning EM-1 — in which the upcoming Space Launch System (SLS) rocket will launch the Orion spacecraft into lunar orbit — from an uncrewed mission into a crewed one.
NASA was given the task of conducting the feasibility study a week ago. Despite repeated questions about whether the White House asked or directed NASA to put a crew on EM-1, neither Gerstenmaier nor Hill gave clear answers about why NASA would want to speed things up.
"We had early conversations with the transition team about accelerating crew capability," Hill said. "We kind of ruled out trying to accelerate EM-2 [originally meant to be the first crewed Orion mission, in 2021] (Exploration Mission 2) and focus our attention on adding crew to EM-1."
The task of considering a crewed mission may have arisen from the Trump administration's interest in sending astronauts back to the moon by 2020. Trump has favored privatizing space travel and may possibly slash the agency's budget. Although no final decisions have been made, internal memos circulating around the White House suggested that downsizing NASA's role in space exploration and sending astronauts back to the moon may become top priorities for NASA.
Although EM-1 would simply orbit the moon, it would be a major step forward towards a larger goal of seeing boots on the moon's surface once again.
Both administrators said they don't have an opinion about whether it would be better to add a crew or not.
"From my perspective, there's not pressure to do this," Gerstenmaier said. "This is something we're going to go evaluate, and we'll decide when we get through this…I don't have a preconceived decision whether I'm for this or against this."
According to Gerstenmaier, having a crew on board would allow NASA to test the systems in a rigorous way. Right now they're still looking at the risks and benefits of adding a crew, as well as how much additional time and funding would be needed. Adding a crew would involve adding features like life support systems, better crew displays, and an altitude abort test.
"We need to get the risks within bounds of what we think are reasonable," Gerstenmaier said.
Nevertheless, it's not clear why it benefits NASA to work those tasks into EM-1 versus EM-2 a few years later.
Gerstenmaier said he would like to construe the flight to 2019, as opposed to 2018. If adding a crew is not feasible by then, then EM-1 would be uncrewed as planned, and NASA would focus on ensuring EM-2 is a crewed mission that can be launched in August 2021.
Neither administrator said when the feasibility study would be finished and released to the public, but Gerstenmaier said NASA should have preliminary findings in the next month or so, and it won't be the only study. They also said they would keep the baseline for EM-1 and EM-2 as a priority.