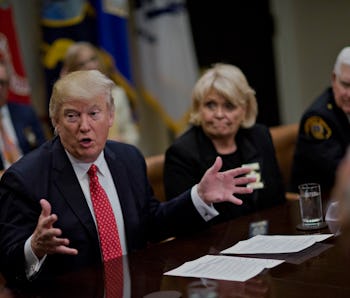 Science
Trump Considers Returning to Moon and Bolstering Private Spaceflight
Getty Images / Pool
Internal memos circulating around the White House suggest that President Donald Trump's administration has plans for a new space race — one that will heavily make room for commercial companies and possibly send astronauts back to the moon by 2020.
According to the Wall Street Journal, Trump's aides plan to make public-private partnerships a top priority for NASA. The return to the moon might be led by private companies, which puts pressure on NASA to change the way it's operating — the space agency's biggest long-term goal is currently working to lay the groundwork for a crewed mission to Mars in the 2030s.
So far, no final decisions have been made about changing current NASA programs or initiating new ones, but the news suggests that Trump's administration may downsize NASA's role in space exploration. NASA currently has a budget of $19 billion and 17,000 employees, but it's not enough funding to carry out everything it needs to do.
NASA has been working on its most powerful rocket, the Space Launch System, and a brand-new crew capsule called Orion. The two projects are arguably the most integral parts of the ultimate goal of flying humans to Mars by 2035.
But these programs cost $3.3 billion a year. Given Trump's promises to cut federal spending, these projects could be the first NASA initiatives on the chopping block.
Meanwhile, private companies like SpaceX, Boeing, and Lockheed Martin have plans to build rockets and space capsules to explore space. SpaceX's Falcon 9 rockets and Dragon capsules are less costly, have fixed-price contracts, and also have reduced federal oversight.
SpaceX CEO Elon Musk is even a member of Trump's economic advisory council. The two have met several times, where Musk spoke about his plans for sending humans to Mars as soon as 2024.
One of the strangest bits to glean from the new memos, however, is something Musk and many others are quite lukewarm on — plans to return to the moon. In a Jan. 23 email from Charles Miller, a member of NASA's original transition team, to former House Speaker Newt Gingrich, Miller says "NASA should hold an internal competition between Old Space and New Space" to figure out the best and cheapest way to return to the moon. "If this initiative can be approved quickly by the White House, and appropriately funded," he said, there could be "private American astronauts, on private space ships, circling the moon by 2020."
The email also emphasizes space partnerships and strategies like transitioning to privately owned and operated space stations. It calls for shifting NASA's goals toward a refocus on economic development of space and creating private sector jobs, rather than focusing on space exploration.
This gets even more confusing, given that Republicans recently introduced a new bill to Congress that would require NASA to submit a more complete report on its human exploration plans — presumably to reorient NASA's focus to exploration at the expense of scientific research. At the very least, the new documents may be a sign the White House and Congressional Republicans are not in close communication about future space plans. At most, it may suggest the Trump administration is choosing to ignore Congress outright.
Miller has long opposed the Space Launch System despite strong bipartisan support for the Space Launch System. He's also been bullish about seeing the U.S. return to the moon, and there is a good chance a push by the Trump administration to conduct more lunar missions would be a result of his influence.
No plans have been finalized so far, but we may see humans back on the moon in three years and the U.S. reestablishing its place in the space race. Meanwhile, however, NASA's leadership in the future of space travel and seems shakier than ever.