You Can Stream 3 of the 5 Oscar-Nominated Documentaries
Get ready for Oscar night and educate yourself in the process.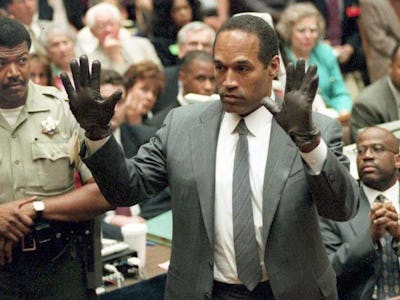 ESPN
Oscar night is just around the corner, and even though La La Land looks poised to win all of the awards, there are a couple categories where it's not a player. Like, for instance, the Best Documentary Feature category, which is especially stacked with great movies this year. If you want to catch up on the nominated documentaries before the ceremony (and learn a little something along the way), you're in luck! Three of the five nominees are available to stream right now. The remaining two, sadly, won't be streaming options until after the show.
This year's crop of nominees includes a lengthy, in-depth examination of the most famous murder trial of the 20th century, a tale about the ways that Disney is able to reach people, and a sobering look at race and justice in America. Here's how to stream them:
O.J.: Made in America, Hulu, WatchESPN
This documentary, which at 7 hours, 47 minutes is the longest film ever nominated for an Academy Award, is a fascinating look at the O.J. Simpson murder trial and beyond. It's a masterful, sweeping look at not just the man, but the culture that created him and led to that infamous verdict. O.J.: Made in America aired on ESPN as a five-part mini-series last summer, but you can stream everything on Hulu or WatchESPN.
13th, Netflix
Ava DuVernay's examination of the role of race in the criminal justice system and the epidemic of mass incarceration offers a sobering look at the reality of the prison-industrial complex — and it questions if the promise of the 13th Amendment banning slavery is really being kept. The documentary, which is airing on Netflix, could net the streaming giant its first Oscar.
Life, Animated, Amazon
The final documentary available for pre-Oscars streaming is based on the book Life, Animated: A Story of Sidekicks, Heroes, and Autism. With the help of charming animations, the film tells the story of how journalist Ron Suskind's son, Owen, who has autism, learned to use Disney films to help express himself and communicate with people around him. The documentary is currently streaming on Amazon Prime.
The final two documentaries will hit streaming sites later this year. Fire at Sea, an Italian documentary about the migrant crisis in the Mediterranean, comes to Netflix on March 31. I Am Not Your Negro, an examination of the history of racism in America based on an unfinished James Baldwin manuscript, will hit Amazon Prime on June 13. It's currently in select theaters, so if you want to go to the cinema before Sunday night, that's an option.