Congressional Black Caucus Exposes Donald Trump in One Tweet
The organization was ready with a comeback.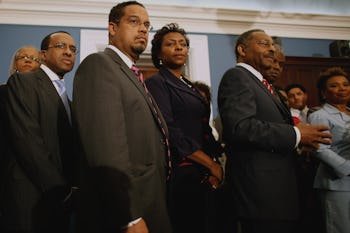 Getty Images / Chip Somodevilla
President Donald Trump has again found himself on the receiving end of a tweetstorm, this one led by the Congressional Black Caucus after a confrontation between Trump and African-American White House correspondent for American Urban Radio Networks April Ryan.
Thursday afternoon at a press conference, Ryan inquired about Trump's inner city policies that he talked about during his campaign. She asked Trump if he planned on including the Congressional Black Caucus in his conversations regarding his urban and inner city agenda. Trump interrupted Ryan to clarify who Ryan was talking about. She originally referred to the organization with its "CBC" acronym. From there an exchange ensued in which Trump suggested that Ryan should set up the meeting.
He said, "Well, I would. I'll tell you what, do you want to set up the meeting? Are they friends of yours?"
"No no no, I'm just a reporter. But I know some of them and I'm sure they're watching right now," replied Ryan.
News outlets and the internet-at-large were quick to call out the racism inherent in what Trump said, insinuating that Ryan should be able to organize the discussions since she is also black.
Plenty of people began thrashing Trump on Twitter. But the most illuminating callout was done by the CBC itself. It issued a tweet not long after the press conference, saying they had in fact sent Trump a letter a month ago, but he never responded.
The CBC even went so far as to provide a link to the letter, which can be found on its website.
Twitter users who saw the major burn were quick to jump on board.
Someone should tell this guy what he really just watched.
Some pointed out that the press conference actually represented a real accomplishment of his presidency.
A more outgoing Twitter user was quick to offer up his services to the president.
And others applauded the CBC for its clapback.
The April Ryan incident comes at a particularly inconvenient time for Trump. One day prior, on Wednesday, the FBI released a lengthy document about the racial housing discrimination for which he and his father were sued back in 1972. These developments together have done little to bolster Trump's already shaky case that he is not racist and has a good relationship with the black community.